Organize your sources with new Library Research Helper
Syracuse University Library has announced the availability of the Research Helper guide, a student-designed booklet intended to help users organize and record the strategies and resources they use in conducting a research project. A PDF version of the Research Helper can be found at http://tinyurl.com/4lm8vfb; print copies are available at any library service desk.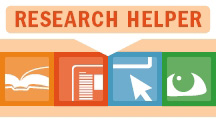 Research Helper simplifies the research process and the creation of bibliographies and works-cited pages by offering a convenient, central location to record keywords, names of databases and journals, detailed citations and other relevant research data. Research Helper also includes advice on how to begin conducting research and suggestions on how to create an effective search strategy, and describes a variety of resources available within the Library. The back cover of the guide features a list of library contacts for getting help with research, including text, online, instant message, phone, email or in-person options.
Research Helper was designed by Allie Jennings '10, graduate of the College of Visual and Performing Arts, as a project for her communications design course. Commenting on her own experience, Jennings says, "So many times during my research, I would find valuable resources online or in the library, but I would lose the information I copied down and have to waste time trying to track down that same information again. This pamphlet organizes my research and helps me be efficient in my efforts."
Several SU librarians also assisted in developing the content. For more information, contact Abby Kasowitz-Scheer at 443-1943 or askasowi@syr.edu.