School of Education lecture series to present 'Our Schools Suck' March 3
The public conversation about the problems with urban schools often places the blame on students who attend those schools, focusing on youths' poor attitudes and negative values. The latest installment in the Syracuse University School of Education's Landscape of Urban Education Lecture Series seeks to change the tone of those conversations.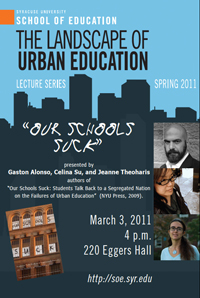 Gaston Alonso, Celina Su and Jeanne Theoharis will present "Our Schools Suck" at 4 p.m., March 3 in 220 Eggers Hall. The lecture is free and open to the public. The speakers are co-authors of "Our Schools Suck: Students Talk Back to a Segregated Nation on the Failures of Urban Education," a 2009 book from NYU Press.
In recent years, several scholars and public figures have shifted attention away from persistent school segregation to place the focus of blame for poor schools on students. "Our Schools Suck" challenges that assertion through in-depth case studies in East Los Angeles, Harlem, N.Y. and the South Bronx, N.Y.
African American and Latino students in these three school systems share stories of their deep commitment to education and their disapproval of the education they are receiving. These students talk of growing disheartened by the public conversation that continually criticizes them, while allowing adults in society to avoid taking responsibility for improving the quality of schools and public education in urban areas.
The three authors and presenters are faculty members in the political science department at Brooklyn College, City University of New York.
Alonso is an associate professor of political science with research interests in American racial history and politics, urban and immigration political and qualitative research methods.
Su is an associate professor of political science with research interests in civil society, civic engagement and the cultural politics of education and health policy. She is also a co-founding program officer for the Burmese Refugee Project, which focuses on the education and social welfare of Shan refugees living in northwest Thailand.
Theoharis is a professor of political science and the first internal endowed chair in women's studies. She has written numerous articles and books on the black freedom struggle and contemporary politics of race in the United States. She is currently working on a biography of Rosa Parks.