Fans can support SSO with ticket purchase for SYRFILM's 'One from the Heart' event
Dessert and champagne, music by Crystal Gayle and Tom Waits, a quirky love story and a donation to the Syracuse Symphony Orchestra—all when you buy a movie ticket at the Palace Theatre on Sunday, Feb. 13.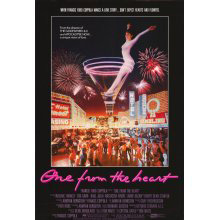 At 4 p.m., Sunday, Feb. 13, the Syracuse International Film Festival will present its annual love story event, which this year features the film "One from the Heart," directed by Francis Ford Coppola with music composed by Waits and performed by Waits and Gayle.
And this year, the film festival is opening its heart to the Syracuse Symphony Orchestra by sharing the program proceeds with the SSO. 
"The rich arts programs and organizations in Syracuse are the heart and soul of our community," says Christine Fawcett-Shapiro, SYRFILM director of development. "Without them, the community would be poorer in many ways. The plight of the Syracuse Symphony Orchestra is really the plight of all the arts, so we need to show our support for one another."
A $20 movie ticket—which can be purchased at the Palace Theatre door—will help both organizations, says Fawcett-Shapiro. Guests will enjoy champagne and dessert donated by local businesses. Tickets for the film only are $10 and available at the door. To say thank you to Syracuse University and Le Moyne College for their continuing support, all SU/Le Moyne students/faculty/staff can enjoy the film for half price—only $5 per movie ticket with a valid college I.D.
After completing "Apocalypse Now," director Coppola initially planned his next picture to be an intimate romantic musical to be shot on a low budget in Las Vegas. Three years later, "One from the Heart" had become a big-budget spectacular, shot at his newly opened Zeotrope Studios on strikingly stylized sets and costing $27 million. 
The story stars Frederick Forrest (Hank) and Teri Garr (Franny) as a working class couple whose relationship has fallen into a rut. They both set off to find new partners and meet Leila (Nastasja Kinsky) and Ray (Raul Julia), a high-wire artist and would-be actor. But Franny and Hank still love each other; the question is whether that love will bring them back together. Singer/songwriter Waits received an Oscar nomination for his widely acclaimed song score, performed with country music star Gayle. 
In addition to supporting the SSO, movie attendees can purchase a ticket to win a Stickley Collector's Cabinet in a drawing that will also take place on Sunday, Feb. 13. The drawing supports SYRFILM; tickets are $25 each. The cabinet—courtesy of Stickley-Audi & Co.—is a limited edition piece valued at $1,500.