Near Westside Initiative Business Association experiencing tremendous growth
Encourages more business owners and entrepreneurs to join
Twenty-eight neighborhood business owners and entrepreneurs attended this month's Near Westside Initiative (NWSI) Business Association meeting at the Delavan Center in Syracuse. The meeting marked the third straight month that the group has experienced record turnout.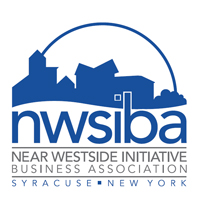 "The association is really gaining traction," says Michael Short, NWSI Business Association interim chair and deputy director of the NWSI. "We've had tremendous growth since forming just last year."
Since the association's first meeting in July 2010, the group has created a mission statement, instituted a membership-driven committee structure to implement projects and recruited a number of new businesses to participate. The association also adopted a logo, created by neighborhood surface pattern and graphic design specialist Whitney Daniels '09, an alumna of Syracuse University's College of Visual and Performing Arts.
"Neighborhood businesses and entrepreneurs in the association are communicating more frequently, discussing aggregated services and leveraging their individual resources and skills," says Short.
Members are currently working on the association's governance structure and deciding what projects to pursue in the neighborhood. The association has also formed a partnership with SyracuseFirst, a nonprofit network of locally owned independent businesses, organizations and citizens dedicated to educating the public and government about the significant environmental, economic and cultural benefits of a strong local economy. The partnership will allow association members to access the array of services offered by SyracuseFirst, in addition to creating many opportunities for collaboration and coordinated efforts.
"SyracuseFirst believes that one of the most important elements of success for creating a local living economy is working collaboratively, and this partnership does just that," said Chris Fowler, founder and executive director of SyracuseFirst. "We look forward to working with the association to strengthen our local economy and improve the quality of life for everyone in our community."
NWSI Business Association member John Gerros, of Jacobs Architectural Woodworking, has been a member since the group was formed. He experienced first hand the benefits of being part of the association. After noticing criminal activity taking place at a building adjacent to his business, Gerros went to the business association for assistance. 
"The police visited us shortly after we brought our concerns to the business association meeting and set up a surveillance station on our second floor. That same day, they made at least one arrest and found a gun that was involved in a shooting the previous week," he says. "Needless to say, we were impressed by the swift action of the business association and relieved that their assistance might slow the criminal activity in our midst. But even beyond that, our hopes for the NWSI have been greatly bolstered by our participation with the initiative's business association."
"Now is the perfect time for new businesses and entrepreneurs to get involved with the NWSI Business Association," says Short. "This is a ground-up effort. Everyone is invited to participate and help shape the association so that it can be beneficial and serve their needs."
Participation in the association is also a necessary step for anyone interested in taking advantage of the NWSI's new innovative microloan program. The NWSI hopes to create community through the business association, provide skills and support through the small business development program and ensure follow through by providing access to much needed micro-financing, which will assist in business startup and expansion.
The NWSI Business Association meets on the first Tuesday of every month from 5-7 p.m. Dinner is provided, beginning at 5 p.m., and meetings begin promptly at 5:45 p.m. The association's next meeting is scheduled for March 1 at the Delavan Center, 501 W. Fayette St. Neighborhood businesses and entrepreneurs are encouraged to contact Short if they are interested in becoming involved or for more information at (315) 443-5402 or mwshort@syr.edu.