Neuburger named president of National Association for Developmental Education
Jane Neuburger, director of the Tutoring & Study Center at Syracuse University, has been named president of the National Association for Developmental Education (NADE). Her appointment is a continuation of her efforts at the state and national level to promote students' success through best practices, evaluation and research.  Most recently, she served as chair of the NADE Certification Council, and as a co-author of the chapter on assessing developmental coursework in the NADE Self-Evaluation Guides.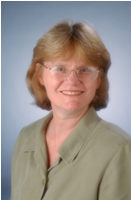 Neuburger was introduced as the president at NADE's 35th annual conference, Feb. 23-25, in Washington, D.C. 
NADE seeks to improve the theory and practice of developmental education at all levels of the educational spectrum, the professional capabilities of developmental educators, and the design of programs to prepare developmental educators. 
As the director of SU's Tutoring & Study Center, Neuburger oversees the hiring, training, and supervising of more than 100 tutors who work with undergraduate and graduate students.  Neuburger has been in education for more than 35 years, teaching in junior and senior-level high schools, as well as at the college-level; in grants-funded programs, and in developmental and non-developmental classrooms.  She focuses on students' reading, writing and literature skills and has taught study strategies, first-year seminars, critical/creative thinking, children's literature and adolescent literature.  She is visiting faculty at the world-renowned Kellogg Institute for Developmental Educators, and is a fellow of the American Council of Developmental Education Associations (ACDEA), the highest honor in the field.