Sustainable Enterprise Partnership announces 2011 Fetner Visiting Sustainability Leader
The Sustainable Enterprise Partnership (SEP) announces that Magali Delmas, professor of management at the UCLA Institute of the Environment and Sustainability and UCLA Anderson School of Management, will be the SEP's 2011 Fetner Visiting Sustainability Leader.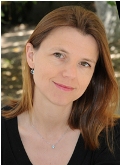 As one of the nation's leading academics on sustainability, Delmas focuses her research on the various interactions between environmental policy and business strategy at the national and international levels, as well as the use of eco-labels and green marketing as a way to help consumers make informed purchasing decisions. Delmas has written more than 50 articles, book chapters and case studies on business and the natural environment. She is also  a UCLA Luskin Scholar, co-director of the UCLA Leaders in Sustainability Program and chair of the Organizations and the Natural Environment Division of the Academy of Management.
Delmas' recent work includes refining current methodologies to measure and communicate firms' and products' environmental performance, with an emphasis on the effectiveness of eco-labeling and certification strategies. She also analyzes the effectiveness of firms' voluntary actions to mitigate climate change and the investigation of the barriers and incentives to the adoption of energy efficient solutions.
As the Fetner Visiting Sustainability Leader, Delmas will be on campus March 1-3 to work with faculty and students and share her specific area of expertise understanding of sustainable enterprise-related research and curricula.
On Tuesday, March 1, Delmas will discuss sustainability-related research opportunities and trends with SU and SUNY College of Environmental Science and Forestry (SUNY-ESF) faculty and graduate students. This discussion will begin at 4 p.m. in room 525 of the Whitman building, and is open to the larger University and SUNY-ESF communities.
On Wednesday, March 2, at 8 a.m., she will share her research findings on green market opportunities with the business community at a breakfast in the Whitman School's Milton Room. On Thursday, March 3, from 11:30 a.m.-1 p.m., Delmas will lead a luncheon discussion for faculty and Ph.D. students on "Sustainability in the Curriculum," based on her leadership experience with this topic at UCLA. There will additionally be presentations from Whitman sustainability-focused curriculum innovation grant recipients.
To register for the March 2 breakfast or the March 3 luncheon, contact Carolyn Hilleges at clhilleg@syr.edu.
During her time in Syracuse, she will also meet with candidates for SEP's Certificate of Advanced Study in Sustainable Enterprise (CASSE) program and guest teach the CASSE course "Managing Sustainability." 
The Fetner Visiting Sustainability Leader is made possible through a gift by Hal Fetner '83, president and CEO of Durst-Fetner Residential, and his wife, Nina, to establish the Fetner Program Fund at the Whitman School of Management for sustainability-related activities. The title of Fetner Visiting Sustainability Leader is given annually to a business or academic expert in sustainable enterprise whose three-to-four-day residency involves direct, in-depth work with faculty and students.
"We are so pleased that Dr. Delmas is this year's Fetner Visiting Sustainability Leader," says Hal Fetner. "Magali's expertise and experience with enterprise sustainability will be a terrific resource for SU and SUNY-ESF students and faculty, and we are eager to hear her insights into corporate sustainability, as well as her leading research on consumer environmental response and incentives."
The SEP is a collaborative effort involving faculty and researchers from three partnering institutions—the Whitman School of Management, SUNY College of Environmental Science and Forestry, and the Syracuse Center of Excellence in Environmental and Energy Systems (SyracuseCoE)—and provides world-class education and research on sustainable enterprise by leveraging the academic, public and private sector resources of Central New York and beyond to address this significant and growing area of concern for businesses and other organizations.