Arts & Culture
Department of Drama presents 'Lysistrata'
The Syracuse University Department of Drama will take an ancient turn in the forthcoming production of "Lysistrata" by Aristophanes. Written and set in Ancient Greece during the Peloponnesian War, this bawdy comedy offers a surprisingly progressive view of gender relations and anti-war sentiment. The show runs Feb. 18-27 in the Storch Theatre at Syracuse Stage.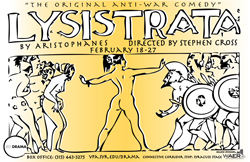 "Lysistrata" was first performed in Athens in 411 B.C. and, due to its popularity, has survived more than two millennia and seen countless translations. Aristophanes, the great comic playwright of ancient Athens, authored approximately 40 plays between 425 and 388 B.C., 11 of which survive today.
Behind the hilarity, however, a deeper meaning resides. Director Stephen Cross says, "Our take on the play explores the chronic tension of yearning for something better that never materializes, and how the human capacity for hope commits us all to a kind of never-ending hell—and so, rationalism, pressed, mutates into the grotesque."
"Lysistrata" will mark the SU Drama mainstage debut of junior Milly Millhauser as the titular heroine.
Cross is an assistant professor of movement and acting with SU's Department of Drama. He is an associate artistic director of the Irondale Ensemble Project Canada. He was Irondale's artistic director from 1990-2004, leading the development of more than 30 original theater and theater dance works. He is the director of the Irondale School of Ensemble Theatre, founded in 2004. Past SU directing credits include "Arabian Nights" and "The Bar Play." As a performer of physical theater, his original work includes "Lunch Money," "Wood Moves" and "Alice," and he is currently creating a new solo work titled "Chair."
Andrea Leigh-Smith, the production's choreographer, recently joined SU Drama's musical theater program as an assistant professor of dance. She has worked as a professional dancer, choreographer and teacher for more than 25 years in the United States and Canada. Broadway credits include "Jerome Robbins Broadway" and "SMILE." She also has numerous credits with national tours and major regional theaters in both the United States and Canada. She is co-founder and resident choreographer for The Irondale Ensemble Project Canada and has created more than 30 choreographic works, inclusive of contemporary concert, jazz and musical theater repertoire. She is currently a faculty member of The Ballet and Dance Center and a certified Pilates instructor. SU choreographic credits include "Arabian Nights" and upcoming choreography for "A New Brain."