Craig Scott '86, Syracuse Architecture alum and visiting critic, to lecture
Craig Scott, co-founder with Lisa Iwamato of San Francisco architectural design firm IwamotoScott, will speak at the Syracuse University School of Architecture on Tuesday, March 1, at 5 p.m. in Slocum Hall Auditorium. His lecture, "IwamotoScott: three avenues," is free and open to the public.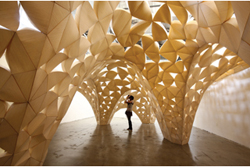 Formed in 1998, IwamotoScott pursues architecture as a form of applied design research, with projects ranging in scale from installations to urban design. Recent projects include Edgar Street Towers, a speculative high-rise designed for the Greenwich South vision plan for Lower Manhattan; Voussoir Cloud, an installation in the SCIArc Gallery; and Jellyfish House, a theoretical house of the near future for the exhibition Open House: Architecture and Technology for Intelligent Living.
IwamotoScott's work has been exhibited at the San Francisco MoMA, Guggenheim Museum and Smithsonian Cooper-Hewitt National Design Triennial. The firm has been widely published in books and journals internationally, and received numerous awards and honors including Best of the Year Award from Interior Design magazine, Emerging Voices and Young Architects awards from the Architectural League of New York, and numerous AIA design awards from the San Francisco, Boston and New Jersey AIA chapters.
Scott received a bachelor of architecture from SU and a master of architecture degree with distinction from Harvard University's Graduate School of Design. Outside of his practice, he has maintained an active teaching career. He is currently an associate professor in architecture at California College of the Arts in San Francisco, and has also taught at the University of Michigan, SCIArc, Harvard University, Sydney University and Yale University. This semester he is teaching a visiting critic studio at Syracuse Architecture.