Media, Law & Policy
Investigative journalism will be explored during March 1 University Lectures presentation by 'Fast Food Nation' author Eric Schlosser
Investigative journalist Eric Schlosser will kick off the spring 2011 University Lectures series on Tuesday, March 1.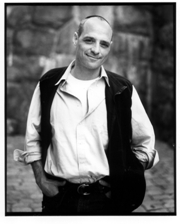 Schlosser's presentation will begin at 4 p.m. in Hendricks Chapel. The lecture, co-sponsored by the College of Human Ecology, is free and open to the public; reduced-rate parking is available in the Irving Avenue parking garage. CART and sign language interpretation will be offered during the presentation.
SU Food Services will do a "Fast Food/Slow Food" themed dinner in the campus dining centers on Monday, Feb. 28, to promote the lecture.
As an investigative journalist, Schlosser explores subjects ignored by the mainstream media and gives a voice to people at the margins of society. Over the years, he has followed the harvest with migrant farm workers in California, spent time with meatpacking workers in Texas and Colorado, told the stories of marijuana growers and the victims of violent crime, gone on duty with the New York Police Department Bomb Squad, and visited prisons throughout the United States. His aim is to shed light on worlds that are too often hidden.
Schlosser's first book, "Fast Food Nation" (Harper Perennial, 2001), helped start a revolution in how Americans think about what they eat. It has been translated into more than 20 languages and remained on The New York Times bestseller list for two years. His second book, "Reefer Madness" (Allen Lane, 2003), looked at America's thriving underground economy. It was also a New York Times bestseller. "Chew on This" (Houghton Mifflin, 2006), a New York Times bestselling children's book, co-written with Charles Wilson, introduced young readers to the health effects of fast food and the workings of industrial agriculture. His next book, "Command and Control," is about nuclear proliferation.
Before trying to write nonfiction, Schlosser was a playwright and worked for an independent film company. In recent years he's returned to those fields.
About The University Lectures
The University Lectures is a cross-disciplinary lecture series that brings to the University individuals of exceptional accomplishment. The series is supported by the generosity of the University's Trustees, alumni and friends. All lectures are free and open to the public.
The Office of University Lectures welcomes suggestions for future speakers. To recommend a speaker, or to obtain additional information about The University Lectures, please contact Esther Gray in the Office of Academic Affairs at 443-2941 or eegray@syr.edu. More information can be found at The University Lectures website, http://lectures.syr.edu, or on Facebook at http://www.facebook.com/universitylectures.
Other scheduled presentations for the spring semester are James Balog, photographer and director of the Extreme Ice Survey (March 8); Karen Tse, human rights attorney, founder and director of International Bridges for Justice (March 22); and Maude Barlow, co-founder of the Blue Planet Project and chair of the Food and Water Watch (April 5).