STEM
Princeton's Guy Nordenson to lecture at Syracuse Architecture
Guy Nordenson, structural engineer and professor of architecture and structural engineering at Princeton University, will speak at the Syracuse University School of Architecture on Tuesday, Feb. 15, at 4:30 p.m. in Slocum Hall Auditorium. His lecture, "Patterns and Structure," is co-sponsored by the L.C. Smith College of Engineering and Computer Science, and is free and open to the public.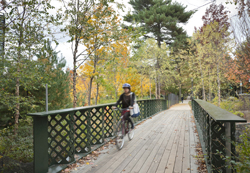 Nordenson studied at MIT and the University of California at Berkeley and began his career as a draftsman in the joint studio of R. Buckminster Fuller and Isamu Noguchi in Long Island City in 1976. He has practiced in San Francisco and New York and, in 1997, established his own structural engineering firm, Guy Nordenson and Associates.
Nordenson was the structural engineer for the Museum of Modern Art expansion in New York, the Jubilee Church in Rome, the Disneyland parking structure in California and more than 100 other projects. Recently completed projects include the New Museum of Contemporary Art in New York. Nordenson is currently working on the expansion of the Kimbell Art Museum in Fort Worth, Texas and the National Museum of African American History and Culture in Washington, D.C.
Nordenson was a recipient of the AIA's 2009 Institute Honors for Collaborative Achievement Award. His project "On the Water—the NY/NJ Upper Bay" won the 2007 AIA College of Fellows Latrobe Research Prize. His Seven Structural Engineers—The Felix Candela Lectures in Structural Engineering was published in 2008 by MoMA.
Nordenson is commissioner and secretary of the New York City Public Design Commission and is also active in earthquake engineering, including code development, research, technology transfer and long-range planning for the Federal Emergency Management Agency (FEMA) and the U.S. Geological Survey. He initiated and led the development of the New York City Seismic Code from 1984 to its enactment into law in 1995.