Cartoonist Cammuso to speak to Library Associates
Author, illustrator and political cartoonist Frank Cammuso will be the Syracuse University Library Associates speaker on Thursday, Feb. 17, at 5 p.m. in the Peter Graham Scholarly Commons, first floor, Bird Library. The event is free and open to the public.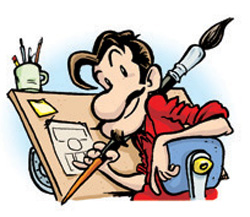 Cammuso will discuss his work as a political satirist and children's author. He will delve into the world of the graphic novel, an exciting and ascendant multimedia print form that traces its roots to the comic book.
A Central New Yorker and SU graduate, Cammuso is known throughout the region and beyond as an award-winning political cartoonist for The Post-Standard. Cammuso's graphic novels include "Max Hamm, Fairy Tale Detective" (single volume edition, 2005), and the "Knights of the Lunch Table" series (GRAAPHIX), intended for children. He collaborated on "Otto's Orange Day" (Toon Books, 2008), also intended for children, with comic artist Jay Lynch and New Yorker editor Francoise Mouly. Cammuso is co-author with Hart Seeley of "2007-Eleven and Other American Stories" (Villard, 2000) and he has contributed fiction and satirical writing to The New Yorker, The New York Times, The Village Voice, Slate, and National Public Radio.
Free event parking is available at Booth Garage, on the corner of Waverly and Comstock Avenues, one block from Bird Library.