Students take control of innovation, entrepreneurship at Emerging Talk 2011
There is no shortage of creative students with innovative, entrepreneurial ideas. Whether you're in the Panasci Lounge at the Schine Student Center, or waiting in line at Starbucks, you can hear students talking about the "What ifs" and realizing that "I can find a better way to do that." But where do the ideas go from there?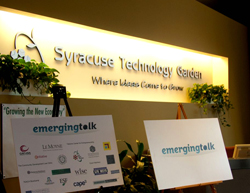 The ideas should come to Emerging Talk 2011 (ET 2011). Students want to meet other like-minded students, they want to meet people who can help turn their idea into a reality, and, of course, they need seed funding to start their venture. Students will find all of this at Emerging Talk. Last year, students from Syracuse University, Morrisville State College, Cayuga Community College, Le Moyne College, SUNY College of Environmental Science and Forestry and Onondaga Community College participated in the conference. Emerging Talk 2010 drew more than 250 attendees, 130 of whom were students interested in starting a venture. This year's event will be even bigger.
"This year, there's this tangible, contagious excitement about entrepreneurship coming from all directions," says Andrew Farah, iSchool graduate student in the information management program. "For us, and many students, Emerging Talk 2011 is becoming a community demo day. We're inviting the best and brightest we can find and encouraging them to stand in front of the one-of-a-kind entrepreneurial network Syracuse University and our affiliate schools have constructed in a frenzy of competition, deal-making, showcase and awards. We're pumped!"
ET 2011 is a two-day, student-run entrepreneurship conference at the Tech Garden in Syracuse (235 Harrison St.). The event is free and open to the public. Anyone with a business idea, a current business, an interest in the entrepreneurial scene in Central New York, or who is a resource to businesses, should come. Attendees should register at http://emergingtalk.com/. There will be food, a student business showcase and iPad giveaways.
March 31 is day one, and it's students only. Through a diverse set of guest speakers, discussions and activities, students are exposed to questions and resources they may not have realized applied to their business. There will be a "help desk" for students in the idea stage wondering what the next step is. Students will begin to build their own entrepreneurial network.
April 1 is day two, and the network is extended. Veteran business owners, community members and alumni are invited to meet the new generation of Central New York startup companies. The day begins with the Orange Tree Fund competition and ends with a student business showcase and award ceremony.
The Orange Tree Fund was initiated in 2009 as part of the Syracuse Student Start-Up Accelerator to provide seed funding to help SU student entrepreneurs launch their ventures.
"If you're a passionate, creative student with the drive to start a business, I want to talk to you," says John Liddy, entrepreneur in residence at the Tech Garden. "We have resources at universities and in the community for students who are starting a business. My goal is to help students take their ideas to the next level and let them know that we're ready to support them."
At Emerging Talk 2010, eight SU student start-ups won a combined $60,000 in seed funding in the first-ever Orange Tree Fund awards. The companies ranged in products from online gaming to date-rape prevention straws to the renovation of old store fronts. The companies comprise an interdisciplinary mix of student talent, representing a diverse range of majors, including architecture, biology, information management, music industry, advertising design, accounting and public relations.
"The judges were impressed with the quality of business ideas and talent at the Orange Tree Fund competition last year," says SU associate provost for entrepreneurship and innovation Bruce Kingma. "One of the most exciting aspects of these awards is that they directly support student entrepreneurs in Central New York. Our hope is that these companies remain in the area after the students graduate to help build a thriving community that is passionate about innovation and entrepreneurship."
Although Emerging Talk is a conversation, it's not just about talking; it's about what happens afterward. "If you get the right people in the same room, things start to happen," Farah says.
For more information or to get details on registration, visit http://emergingtalk.com/.
Emerging Talk has been made possible, in part, by Enitiative. Enitiative is funded by a grant from the Ewing Marion Kauffman Foundation of Kansas City, Mo., focusing on entrepreneurship in the arts, technology and neighborhoods. To learn more about Enitiative, visit http://www.entrepreneurship.syr.edu.