Writer, director to host campus Q-and-A following screening of 'Inlaws & Outlaws' Feb. 10
On Thursday, Feb. 10, Syracuse University's LGBT Resource Center, in conjunction with the LGBT Studies Program, will present a special screening of the documentary "Inlaws & Outlaws," followed by a Q-and-A session with the film's director, Drew Emery.  The event begins at 7:30 p.m. in Gifford Auditorium in Huntington Beard Crouse Hall; it is free and open to the public.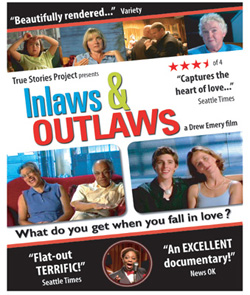 Critically acclaimed "Inlaws & Outlaws" weaves together the true stories of couples and singles—both gay and straight—into a collective narrative. For more information on the film, visit www.inlawsandoutlawsfilm.com. 
Filmmaker Emery grew up in Syracuse and has toured the film to more than 427 community screenings across the country as part of his Hearts + Minds Campaign. This is the first public screening in Upstate New York. "I'm thrilled to bring this film back to Syracuse," says Emery. "I grew up right next door to SU and the cultural life on campus is what sparked me to pursue my dreams of creating work that would inspire social change." 
Now based in Seattle, Emery has created a significant body of community-centered work. After receiving his M.F.A. in playwriting from the University of Virginia and winning the Virginia Playwriting Prize and the Howard Scammon Drama Prize, he moved to Seattle and began working with the Alice B. Theatre troupe. 
In addition to co-directing the nation's first national lesbian and gay theater conference, Emery collaborated with various artists to create "Hidden History: True Stories from Seattle's Lesbian & Gay Elders" and "Language of One," the personal odyssey of a deaf gay man. "Hidden History" joined forces with Hands-Off Washington and toured throughout Washington state; "Language of One" went on to a successful Equity showcase production at New York Deaf Theatre, which Drew directed. It also had a critically acclaimed run at the Sydney Mardi Gras Festival, produced by Australian Theatre of the Deaf. Other theatrical work includes "Solo for Four," a short performance poem for queer youth, and contributions to "Voices of Christmas" at the Group Theatre. 
After receiving a Seattle Arts Commission Seattle Artists Award in 1998, Emery broadened his artistic work to include fiction and poetry. But it is his foundation in oral history storytelling that has led him on a path of documentary filmmaking. 
In 2000, Emery received a City of Seattle ArtsUp community collaboration grant to partner with the Seattle LGBT Community Center and create "The Bridge," a video documentary built around a virtual dialogue between lesbian, gay, bisexual and transgender elders and queer youth. Premiering in November 2002 at the Broadway Performance Hall, "The Bridge" was created to address a generational divide within the LGBT communities but ultimately became a film about growing up and growing old. By unleashing the power of first-hand stories from every day storytellers, this project became a springboard for the creation of the True Stories Project and the development of "Inlaws & Outlaws." 
After "Inlaws & Outlaws" premiered to sold-out houses at the Seattle International Film Festival, Emery was chosen as a runner-up for best director. The film has since gone on to win the Grand Jury Award at the deadCENTER Film Festival, Best Local Film at the Seattle Lesbian & Gay Film Festival and was chosen Best of Fest at the Palm Springs Film Festival. The final version of the film received its theatrical premiere at the Seattle Cinerama in 2007 and went on to an extended run. That year, Emery was honored by the Greater Seattle Business Association (GSBA), receiving Special Recognition for Social Change Through the Arts. 
Also in 2007, Emery launched the Hearts + Minds Campaign, which to date has partnered with countless equality organizations, schools and faith communities to present more than 400 community screenings of "Inlaws & Outlaws" throughout the United States and Canada. Emery continues to tour with the film and is frequently sought as a public speaker and storytelling evangelist. 
Emery's writing has been published in the Virginia Literary Review, The Drama Review, Salon.com, RootSpeak and The Bilerico Project, in addition to his blog at Open Salon.