Acclaimed contemporary music ensemble counter)induction to present free concert Feb. 6
Acclaimed contemporary music ensemble counter)induction will present a concert on Sunday, Feb. 6, at 8 p.m. in the Rose and Jules R. Setnor Auditorium, Crouse College. The concert is free and open to the public. Free parking is available in the Irving Garage.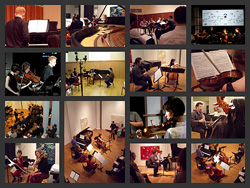 The New York City-based ensemble will highlight works by founders Kyle Bartlett and Douglas Boyce, as well as works by Daniel Moe, Salvatore Sciarrino and Felipe Lara. The concert is sponsored by the Rose, Jules R. and Stanford S. Setnor School of Music in Syracuse University's College of Visual and Performing Arts (VPA) and the Office of the University Performing Arts Presenter.
Bartlett will also give a presentation for student composers in the Setnor School during the ensemble's visit to SU.
In its 12 years of virtuosic performances and daring programming, the composer/performer collective counter)induction has established itself as a force of excellence in contemporary music. Hailed by The New York Times for its "fiery ensemble virtuosity" and for its "first-rate performances" by The Washington Post, it has given critically acclaimed performances at Miller Theatre, Merkin Concert Hall and the Philadelphia Chamber Music Society.
counter)induction is the winner of an ASCAP/Chamber Music America Award for Adventurous Programming and has headlined numerous festivals, including the Music at the Anthology Festival, Boston Conservatory New Music Week, the Columbia Music Scholarship Conference and, most recently, the 2010 Conference of the International Consortium for Auditory Display.
Since emerging in 1998 from a series of collaborations between composers at the University of Pennsylvania and performers at the Juilliard School, counter)induction has premiered numerous pieces by both established and younger emerging American composers, including Eric Moe, Suzanne Sorkin, Ursula Mamlok and Lee Hyla. The ensemble has also widely promoted the music of international composers not often heard in America, including Jukka Tiensuu, Bernhard Gander, Gilbert Amy, Dai Fujikura and Vinko Globokar.
For more information about the concert, contact the Setnor School at (315) 443-2191.