Connective Corridor construction includes tree removal and replanting, stormwater management
In preparation for construction this spring and summer along the Connective Corridor, approximately 67 trees, which are dying, damaged or past their useful life, will be taken down along University Avenue and East Genesee Street in the coming weeks. The honeylocust, pear and sycamore trees to be removed will be replaced by 148 ginkgo, honeylocust, coffee, goldenrain, black locust and zelkova shade trees, as well as ornamental trees, including serviceberry, summer snow and lilac.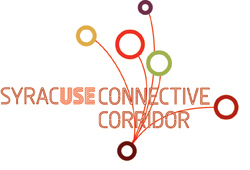 Tree removal must be completed by March 31 in order to comply with federal regulations surrounding the protection of the Indiana bat, an endangered species. The Corridor has developed special signs to mark trees that will be taken down, so that the general public and property owners along the corridor will be aware of changes taking place each step of the way during the construction process. The tree removal will be performed by Tree Landers, the current city contractor.
"We understand that people may initially be surprised that a project with such emphasis on green infrastructure will be removing a portion of trees right from the start," says Robbi Farschman, director of the Connective Corridor. "However, we will be replacing more than twice the number, so the streets will have an even more beautiful canopy for years to come."
New trees will be roughly three inches in diameter and 14 to 18 feet tall. According to City of Syracuse and Onondaga County Arborist Steve Harris, species were selected based on their ability to tolerate urban conditions. Harris approved all tree selections for the Corridor.
Several green technologies will be used along the Connective Corridor that will integrate improved tree growth with storm water management. Silva cells will provide a frame that supports sidewalks and increased space underneath for roots to grow in soil. In other places, structural soils will support sidewalks while directing roots underneath toward lawns.
The use of these green technologies is being supported by Onondaga County's "Save the Rain" campaign, because of their ability to manage stormwater on site in a cost-effective manner. "Save the Rain" educates the public and enhances urban settings by building and developing green infrastructure throughout the community. The campaign aims to raise public awareness and understanding to help reduce stormwater runoff and improve the environment.
For more information on Connective Corridor construction, contact Farschman at (315) 443-4137, or rfarschm@syr.edu.