Nominations sought for 2011 Beyond Compliance Award
The Beyond Compliance Coordinating Committee (BCCC) seeks nominations for its annual Beyond Compliance Award. The award will be given to any Syracuse University department, faculty, staff, student and student group that has demonstrated commitments to inclusion, and worked "beyond compliance" to foster the inclusion of students with disabilities and/or to create a more disability-friendly environment on campus (e.g., faculty who create classrooms that are models of inclusion; a student group that brought up disability issues in a profound manner in their activities). The award is intended to encourage efforts primarily among faculty, staff, students and programs that are not otherwise involved in disability studies or disability services.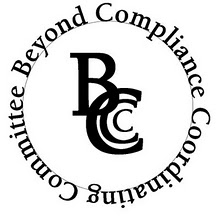 Nominations must be received by Monday, March 21. The award(s) will be announced at the ceremony that will take place on April 15 at noon in the Goldstein Faculty Center. The award reception will showcase the accomplishments of the nominees, and will feature a guest speaker related to the disability studies field.
The purpose of this award is three-fold:
to collect, share and disseminate the stories and ideas of fostering inclusion on campus;
to recognize excellence in work done around the campus; and
to cultivate, excite and promote pride in the joint work that builds an inclusive, respectful community and climate on the SU campus.
The BCCC, founded in 2001, is an activist organization of SU students who are working to create and support a positive climate toward disability that values individual difference in all University settings. The BCCC has been taking an active role in advocating for changes in University policy and practice related to disability and diversity.
The BCCC values disability as a facet of human condition, and maintains that the SU community will be enhanced by a broader conceptualization of diversity that calls for inclusion, equality and social justice. The BCCC strives to work toward reshaping SU's conception of disability to promote an understanding of disability as a form of diversity; creating model accommodations exemplifying the University's commitment to equality of opportunity for students with disabilities; and hiring faculty and staff members with disabilities within departments across the University.
Nominations by students, faculty, or staff will be accepted (self-nominations are also accepted). Please use the nomination form to provide the following information:
detailed descriptions of the work performed by the nominated individual(s) or the group; and
explanation of how the work contributed to make positive changes and helped SU to move toward an inclusive, respectful community and climate on campus. In this section, please also explain how the work exemplifies the element of "beyond compliance" (i.e., beyond what's generally required or expected).
Completed nomination forms should be no longer than three pages and include the names of two individuals who support the nomination. Nominators are encouraged to submit supplemental materials (e.g., photos, copies of written work, video footage, etc.) that can support the award selection committee's understanding of the nominee. Information contained in the nomination form and any other submitted materials may be shared with the public at the awards ceremony, or on the BCCC's website. Please indicate if you do not wish your submitted materials and/or letter to be used for dissemination/sharing purposes.
Please email the completed nomination form and any other nomination materials to Juliann Anesi at jtanesi@syr.edu, Center on Human Policy, 805 S. Crouse Ave., Syracuse, N.Y. 13210. For more information about the award, contact Anesi at jtanesi@syr.edu.
Co-sponsors of this award include the Center on Human Policy, Law and Disability Studies; The disAbility Law Society; the Office of Disability Services; the Center on Human Policy Advocacy Board; and the Chancellor's Task Force on Disability.