XL Projects to exhibit 'New Directions in Photography' March 9-27
What does it mean to be an art photographer today? In the exhibition "New Directions in Photography," the third-year art photography graduate students in Syracuse University's College of Visual and Performing Arts (VPA) prove that the photographic medium has outgrown its traditional function as singular-print-on-the-wall and is now an expanded practice that includes video, sculpture, installation and performance.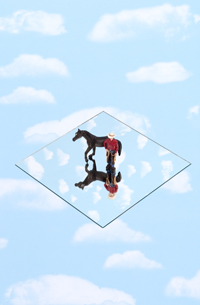 "New Directions" will be on view March 9-27 at XL Projects, 307–313 S. Clinton St., Syracuse. The show is free and open to the public. An opening reception will be held Thursday, March 10, from 5-8 p.m. The exhibition can also be viewed during Syracuse's Th3 Third Thursday on Thursday, March 17, from 5-8 p.m., as well as during regular gallery hours, Wednesday-Sunday, noon-6 p.m. (Shown: "Cowboy in Clouds" by Sarah Zamecnik)
Although the four photographers—Sarah Zamecnik, Shimpei Shirafuji, Jeffrey Einhorn and Colleen Woolpert—push their work in different directions, one belief unites them: the image is paramount, whether it is static or in motion; surrounded by a frame or mounted to a sculptural form; printed on paper or projected onto surfaces; silent or accompanied by sound. It operates sometimes as documentation, other times as replication or appropriation. It is used variously to depict truths or to create fictions derived from truths or the realm of the artist's imagination.
About the artists:
Zamecnik is interested in the way objects symbolize meaning in our lives. To archive her own life, she creates personal narratives by arranging objects into still-life compositions. In other projects, she documents objects left behind in the shared community space in her apartment complex. She then juxtaposes these images to construct displays of "yours and mine."
Shirafuji looks to the history of photography, shooting in the mode of the itinerant street photographer. From there, however, he radically departs from the traditional gallery presentation of this genre, considering space as a sculptural element and asking us to cull meaning from his photographic collection as a whole.
Einhorn works in photography, video and sculpture. His current work addresses themes of masculinity, amateurism, mediocrity and notions of success and failure in American identity. By placing himself in absurd and uncomfortable social circumstances, he tries to re-evaluate established societal mores in contemporary culture and reconsider the representation of the "ideal" man.
Woolpert creates video, sculpture, installation and performance pieces that utilize the image to explore relationships between the real and the illusory, the surface and the depths and, ultimately, between the artist and the viewer. XL Projects is the site for a new body of work that investigates the nature of perception and the photographic act itself.
For more information, contact Woolpert at cmwoolpe@syr.edu. XL Projects may be contacted at (315) 442-2542 during gallery hours.