Alumnus Brendan Rose G'10 named first Syracuse Public Artist in Residence
The public art of local resident Brendan Rose G'10 began with one giant open hand, palm raised, as a gesture of peaceful greeting and welcome. The nine-foot-tall sculpture (in photo), which sits in front of Syracuse's City Hall Commons on East Washington Street, earned Rose, an alumnus of the Syracuse University School of Architecture, a special place in the local art community.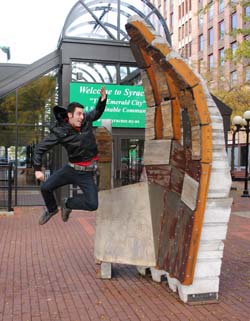 As the first Syracuse Public Artist in Residence (SPAR), Rose will have 12 months to realize his vision of art as a community-driven activity, one that relies on the ears almost as much as the eyes. "You've gotta listen to it all," he says. "The challenge is—how do you filter that through your own artistic sensibilities to produce something?"
For the past five years, Rose, an artist and architect, has worked on art as community activity with projects such as the "Art Shark" in Lipe Art Park on West Fayette St. The shark, his thesis work for his master's degree in architecture, is a sculpture made of concrete, steel and fabric canopies that stands in the center of the park.
The idea of creating a SPAR was initiated, in part, by Maarten Jacobs and Dominic Robinson, members of 40 Below, an initiative of Centerstate CEO. Jacobs has been active as part of the 40 Below Public Arts Task Force for several years, working to diversify opportunities for artists in the community.

"Brendan was selected as the inaugural SPAR largely due to his proven track record of working collaboratively with a variety of community participants to imagine, design and create provocative public art," says Jacobs.
In his appointment as SPAR, Rose will work on two public art projects. With major streetscape construction slated to occur this year along University Avenue and portions of East Genesee Street, including enhancements to Forman Park and areas adjacent to The Warehouse, Robbi Farschman, director of the Connective Corridor, was eager to include public art in the mix.
"When I read the SPAR proposal, I could see the vision and knew exactly how we could help," she says. With funding from a grant for public art provided by the Empire State Development Corp., the Connective Corridor will cover labor and material costs for Rose's two public art pieces. At year's end, these pieces will be placed along the route.
Rose will also work with SU industrial design students in the College of Visual and Performing Arts during "Environments," a course this semester that will teach students to see the deeper meaning of an object. Where most courses are bound to studio space, Rose will be working in a double-height storefront in the State Tower Building, which will enable the public to see the artwork come to life in real time.
During the process, Rose will also take to the streets to gather feedback and invite people to participate in construction of the public art pieces. As his work comes together, he will also seek partnerships with other local artists, balancing their opinions with those of city residents, who will ultimately own the sculptures. "I've never had (so many) resources going into a piece before," he says.
There is still a need for approximately $15,000 in funding, to cover Rose's residency, as well as the costs of an exhibition and publication at its conclusion.
Rose earned a master's degree in architecture from SU. His thesis work explored architectural competency based on the architect's capacity to collaboratively execute full-scale design work within urban environments. Prior to his master's studies, he designed and constructed a residence in Fenner, N.Y., which integrated contemporary, energy-efficient design into the rural landscape through local materials, formal language and traditional arts and crafts practices. From 2002-05, Rose worked professionally at the Miller/Hull Partnership in Seattle, where he specialized in sustainable design and construction.
For more information, contact Farschman at (315) 443-4137 or rfarschm@syr.edu.