Arts & Culture
Syracuse Stage, SU Drama present 'Rent'
Jonathan Larson's Broadway phenomenon "Rent" ignites the stage with passion and energy. One year—525,600 minutes—in the lives of seven young friends from Alphabet City brings love, loss, tragedy and triumph in a whirl of non-stop music. Larson built the show on the artists and addicts he knew in his neighborhood as they battled poverty, drugs, AIDS and the looming gentrification of their "Vie Bohème." Urban and gritty, this Tony Award- and Pulitzer Prize-winning musical brims with raw emotion and infectious enthusiasm.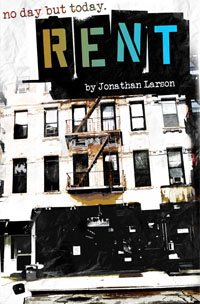 Running Jan. 18-Feb. 13 at Syracuse Stage, "Rent" is co-produced by Syracuse Stage and the Department of Drama in Syracuse University's College of Visual and Performing Arts (SU Drama). Tickets range from $16-$48 and are available at (315) 443-3275, or http://www.SyracuseStage.org. "Rent" is supported by the Reisman Foundation, Chase Bank, Constellation Energy, Hiscock & Barclay and KeyBank. Media sponsors are the Central New York Business Journal, Eagle Newspapers and Urban CNY. Syracuse Stage season sponsors are The Post-Standard and Time Warner Cable.
Based on Puccini's "La Boheme," "Rent" opened off-Broadway in January 1996 to wide critical acclaim. It quickly moved to its Broadway home, the Nederlander Theatre, and went on to win the 1996 Pulitzer Prize for drama and four Tony Awards, including Best Musical and Best Original Score. Ben Brantley of The New York Times wrote, "What makes 'Rent' so wonderful is its extraordinary spirit of hopeful defiance and humanity." The show ran on Broadway for 12 years, making it the eighth longest-running Broadway musical in history.
The Syracuse Stage cast of "Rent" will feature eight professional actors in leading roles, performing alongside 11 students from SU Drama, who will take on double duty performing in the ensemble and understudying the principal characters.
"Rent" marks the 11th time since the year 2000 that Syracuse Stage and SU Drama have co-presented a large-scale show, continuing a mutually beneficial relationship that allows Syracuse Stage the resources to produce fully realized productions with large ensembles, while offering a learning opportunity for SU Drama students that is unique among undergraduate theater programs. Director, choreographer and SU drama professor Anthony Salatino has directed, choreographed or directed and choreographed each of the Stage/SU Drama co-productions, including "Rent."
An exhibit provided by the Onondaga Historical Association, mounted in Stage's Coyne Lobby during the run of "Rent," will trace the origin of the term "Bohemianism" from the 17th-19th centuries. The main portion of the exhibit will highlight the similarities between the late 20th century Bohemian characters depicted in "Rent," and certain complementary segments of the local population from the same time period. From the struggle for gay rights, through the stigma of HIV and the controversy over needle exchange and rehabilitation programs, to the establishment of artist communities and affordable, appropriate housing, the exhibit covers the local aspects of the principle subjects represented in "Rent."