Renowned art educator Olivia Gude to speak Feb. 1
Olivia Gude, an award-winning art educator, collaborative public artist and professor at the University of Illinois at Chicago, will present a lecture on Tuesday, Feb. 1, at 6:30 p.m. in Shemin Auditorium in the Dorothea Ilgen Shaffer Art Building. The free public lecture is sponsored by the art education program as part of the Department of Art's Visiting Artist Lecture Series in the College of Visual and Performing Arts (VPA). Parking is available for $4 in Booth Garage. Patrons should mention that they are attending the lecture to receive this rate.

Gude is the recipient of the National Art Education Association's 2009 Viktor Lowenfeld Award for her contributions to the field of art education. She is the founding director of the Spiral Workshop, a curriculum research project that provides art classes for urban teens. Her current research focuses on identifying new paradigms for structuring visual art curricula, including the articles "Postmodern Principles: In Search of a 21st Century Art Education," and "Principles of Possibility: Considerations for a 21st Century Art and Culture Curriculum."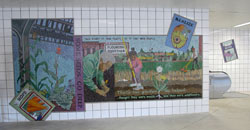 As a public artist, Gude has created more than 50 mural and mosaic projects, often working with intergenerational groups, teens, elders and children. Her numerous grants, commissions and awards include two National Endowment for the Arts grants in 1993 and 2004.
Gude has lectured and presented workshops internationally and works with art teachers to foster the collaborative creation of new curriculum models in urban and suburban school districts. She is editor of Chicago Public Art Group's online Community Public Art Guide, http://www.cpag.net. She also serves on several boards and councils, including the educational advisory board of "Art21," the PBS documentary series about contemporary art, the Council on Policy Studies in Art Education and the board of Gallery 37 High School in Chicago.
For more information about the lecture, contact James Haywood Rolling Jr., dual associate professor of art education and teaching and leadership, at (315) 443-2355 or jrolling@syr.edu.