Celebrate winter during Upstate Snowdown this weekend at Lipe Art Park
The Stewards of Lipe Art Park, 40 Below's Public Arts Task Force, and the Near Westside Initiative (NWSI) invite the local community to celebrate winter during Upstate Snowdown, a fundraising party and snow celebration this weekend at Lipe Art Park, 900 W. Fayette St., Syracuse. The event will be held on Saturday, Feb. 5, from 1-4 p.m.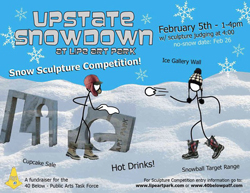 Community members are invited to participate in (or just enjoy) a no-rules snow sculpture competition, try their aim at the snowball target range and peruse the ice gallery wall. All types of snow gear, including cross-country skis and snowshoes, are encouraged.
Creative homemade cupcakes and hot beverages will also be available. The NWSI is donating hot chocolate and coffee for the event. All proceeds raised will be pumped into public art projects and singular events around Syracuse.
Those interested in participating in the snow sculpture competition should e-mail info@40belowpatf.com to reserve a spot and get more information about the contest. Snow in 12' x 12' parcels will be allotted at $10 a plot. Prizes will be awarded for sculptures.
For more information, contact Maarten Jacobs at mjacob01@syr.edu or (315) 443-0320.