Syracuse Student Start-up Accelerator to be honored with Leavey Award for Excellence
The Syracuse Student Start-up Accelerator at Syracuse University will be honored with the 34th annual Leavey Award for Excellence in Private Enterprise Education from the Freedoms Foundation at Valley Forge, Pa. The Leavey Awards program—endowed by the Thomas and Dorothy Leavey Foundation—permits Freedoms Foundation to honor educators for their innovative efforts to help young people better understand the function and benefits of America's private enterprise system.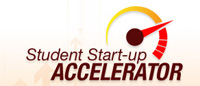 Bruce Kingma, Syracuse University associate provost for entrepreneurship and innovation, and professor at both the Whitman School of Management and the School of Information Studies, will accept the program's award at a gala banquet at the Loews Hotel in Philadelphia on March 19. Each year, the Leavey Award panel may select up to 20 awards; this year the panel selected 11.
"The Leavey Awards is one of the most prestigious honors for teachers who create and implement programs that teach the free enterprise system to the next generation," says Freedoms Foundation President Michael Di Yeso. "The Freedoms Foundation is proud to host this important tribute and to celebrate our 30-plus-year partnership with the Thomas and Dorothy Leavey Foundation."
The Syracuse Student Start-up Accelerator helps Central New York college and university students start for-profit and nonprofit ventures. A 2009 recipient of an SU Chancellor's Leadership Grant and Kauffman Enitiative funding, the goal of the Accelerator is to work with student entrepreneurs to start new businesses and nonprofit organizations that provide economic growth for Central New York. As a partnership between SU and the Syracuse Technology Garden, it is open to all student entrepreneurs from colleges and universities in the Syracuse metropolitan area and includes curriculum available to all college and university students in Central New York; The Sandbox at the Technology Garden (a student venture incubator); and support services including the Orange Tree Fund (an investment fund for student ventures), access to an entrepreneur in residence, alumni mentors, workshops, Demo Day and Emerging Talk. 
The Leavey Award honor comes with $7,500, which will be given to the Orange Tree Fund to provide funding for future SU student entrepreneurs. Since their inception in 1977, the Leavey Awards have provided more than $3 million in award money.
The Freedoms Foundation at Valley Forge was founded in 1949 to help Americans preserve the ideals and principles of the United States through educational and award programs for men, women and children from every community in America. For more information on the Leavey Awards and Freedoms Foundation, visit www.freedomsfoundation.org.