IJPM announces lineup of fourth annual spring semester lecture series on law, politics and media
The Institute for the Study of the Judiciary, Politics and the Media (IJPM) at Syracuse University announces its fourth annual lecture series on "Law, Politics and the Media."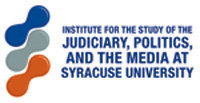 The series provides an introduction to the court system and its environment as a single, integrated subject of study and features speakers from a variety of legal, political and media backgrounds, including practicing lawyers, published authors, leading scholars and court researchers.
"Law, Politics and the Media" lectures are free and open to the public. They take place on Wednesdays from 4–5:15 p.m. in Room 204 of the SU College of Law. Paid parking is available in campus pay lots.
The series is part of an interdisciplinary course on law, politics and the media cross-listed between the College of Law, the S.I. Newhouse School of Public Communications and the Maxwell School of Citizenship and Public Affairs. The course is taught by SU professors Keith Bybee (IJPM director and Paul E. and Hon. Joanne F. Alper '72 Judiciary Studies Professor), Roy Gutterman (Tully Center for Free Speech director and associate professor of communications law and journalism) and Lisa Dolak (IJPM associate director and Angela S. Cooney Professor of Law). The creation of the course was funded with support from the John Ben Snow Foundation and the Carnegie Corp. of New York.
Jan. 26
"Our Societal Panic: Why Our Tax and Economic Debates Are Irrational"
David Cay Johnston, distinguished visiting lecturer, SU College of Law and Whitman School of Management
Feb. 2
"Freedom of Information: The Legacy and the Future"
Robert Freeman, executive director, Committee on Open Government
Feb. 16:
"Blue or Red: An Inside Look at the Politics of the Supreme Court"
David Weisenfeld, editor-in-chief, LAWCAST
Feb. 23
"How Copyright Law is Killing the News Business and What to Do About It"
David Marburger, partner, Baker & Hostetler, LLP
March 2
"At the Crossroads of Federalism: the Interwoven, Interdependent, Varied and Expensive Local Government Responsibilities in Implementing Federal and State Domestic Policies"
Thomas Buckel Jr., Onondaga County legislator and partner, Hancock & Estabrook, LLP
March 30
"Justice Most Local: The Truth about Town and Village Courts"
Robert Jokl, DeWitt Town Justice
The Honorable James P. Murphy, Onondaga County Supreme Court
April 6
"In the Court of Public Opinion: Strategy and Ethics in High-Profile Litigation"
James Haggerty, attorney and CEO, PR Consulting Group
April 13
"Supreme Court Reporting: What's Changed in Coverage and Why It May Matter"
Dahlia Lithwick, senior editor, Slate