Intern Queen visits SU Feb. 1
Many students land an internship or two during college, but few manage to snag 15. Lauren Berger did just that. Now, as CEO of Intern Queen Inc., Berger connects thousands of students with dream employers and travels the country speaking about the importance of internships.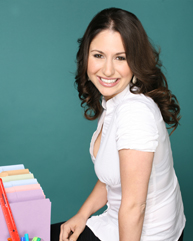 On Tuesday, Feb. 1, Berger will speak at Syracuse University at 7 p.m. in Maxwell Auditorium. Her speech, "Everything Internships with the Intern Queen," will highlight the benefits of having an internship, strategies for finding an internship, ways to make the most of your internship experience and tips for converting an internship into a full-time job.
Named one of Business Week's Best Young Entrepreneurs in 2009, Berger runs InternQueen.com, an online internship destination that helps students apply for internships and make the most of their experiences. Leveraging her personal experience with companies such as MTV, FOX and NBC, Berger serves as a connector between students and the employers of their dreams. InternQueen.com posts more than 700 internship opportunities worldwide and has connected thousands of students with their dream internships.
In addition to leading Intern Queen Inc., Berger travels the country speaking to high school and college students about internships. She also writes a weekly advice column for the Washington Post and has been featured in The Wall Street Journal, Fox Business and The New York Post.
Berger is a 2006 graduate of the University of Central Florida. Prior to launching Intern Queen Inc. in 2008, she worked at Creative Artists Agency in Beverly Hills, Calif.
"We are thrilled to bring Lauren Berger to campus," says Jennifer Pluta, internship coordinator in Career Services. "Lauren's expertise in the area of internships, combined with her relatable style, will make her speech an exciting and informative event for students."
Berger's speech will be interactive, giving students the opportunity to ask questions and engage her on topics relevant to the internship search, interviewing, resume writing, social networking and more. SU students are encouraged to attend; the event is also open to the public.
This speech is sponsored by Career Services and SU's co-curricular fund fee. For more information, contact Pluta at jrpluta@syr.edu, or 443-3616.