Cold Case Justice Initiative provides documents leading to identification of key suspect in 1964 racially motivated killing
FBI, Department of Justice promise to solve crime
The Cold Case Justice Initiative (CCJI) at Syracuse University College of Law can now identify a new suspect in the 1964 racially motivated killing of Frank Morris in Ferriday, La. Arthur Leonard Spencer has been named in an article written by investigative reporter Stanley Nelson, who writes for the Concordia Sentinel, Ferriday's local newspaper. In an interview with Nelson, family members revealed that Spencer, a Rayville, La., resident, admitted that he participated with O.C. Poissot, now deceased, and others in the Dec. 10 Klan-sponsored arson that killed Morris in 1964.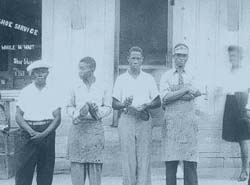 Law professors Paula C. Johnson and Janis L. McDonald, co-directors of the CCJI, met with local and federal prosecutors and advocated for justice in this case on behalf of the family. The work of CCJI law students proved critical in this investigation by locating and identifying thousands of unredacted documents from 1967 related to the case. CCJI provided these vital documents to the Concordia Sentinel and to local and federal law enforcement agencies. "The CCJI is pleased that our research provided the critical foundation for Nelson, leading to the developments reported today," says Johnson.
"My family has waited for a long time to find out what happened to my grandfather," says Rosa Morris Williams, the granddaughter of Frank Morris (fourth from left in photo). "Words could never say what it means to me that the folks at the Concordia Sentinel and the Syracuse University Cold Case Justice Initiative have stood by our side for so long and helped us fight for justice for him and for all the families."
Cynthia Dietle, director of the Civil Rights unit of the Federal Bureau of Investigation, told the Sentinel in today's story, "We will solve this crime," adding that the murder is "one of the most horrific and troubling of all the FBI's Civil Rights-era Cold Cases."
In a series of phone negotiations throughout November and December 2010, the Sentinel agreed to requests by senior Justice Department officials, including Dietle, the Civil Rights division's Assistant Attorney General Thomas Perez, and Deputy Assistant Attorney General Roy Austin to delay a planned November publication date until today. Perez, who characterizes the Morris murder as an unspeakable act, would not comment on the reason for the request to delay publication except to say that, "As we speak, intensive investigative efforts are under way." He refused to comment on whether an arrest or grand jury proceeding is imminent, according to the Sentinel.
Morris, a 51-year-old African American, owned a shoe repair shop in Ferriday in 1964, where he mentored young men by providing them with jobs. He was also the sole guardian of his 10-year-old grandson, Nathan. They lived in small rooms behind the store. On the night of Dec. 10, 1964, Morris heard glass breaking in the front of the store and went out to investigate. He was pushed back into his store by two or three armed white men, suspected to be Klansmen, and he and the store were doused with a gasoline-type substance. The store exploded in flames and Morris, who managed to escape out the back door, received third-degree burns over his entire body. His grandson saw him flee the store in flames. Morris died four days later. No one was ever prosecuted for his murder. Members of Spencer's family told the Sentinel's Nelson that Spencer admitted on a number of occasions in the past that he participated in the arson, suggesting that the perpetrators did not expect Morris to be there and that his death was "accidental." Spencer has denied any involvement in the fire or the death of Morris.
The Cold Case Justice Initiative has been working with the Sentinel and the family of Morris for the past four years to help identify those responsible for his death. In the summer of 2010, law students and the professors worked in the Ferriday and Natchez, Miss. area investigating Morris' death and other Klan-related killings. "No one ever said these killings would be easy to solve," says McDonald. "If more cases had this urgency of investigation and all-consuming dedication to solving the killings, we would see fewer cases closed without justice and more accountability to society's laws."
Professors McDonald and Johnson became involved in early 2007 at the request of Nelson and Williams. Although the FBI had Morris' name on a list of crimes to be solved, no agent had been assigned to his investigation at that time. Law students immediately became interested in helping to solve this case and volunteered hundreds of hours to research documents found in archives in Louisiana, Mississippi, Maryland and the District of Columbia. The CCJI was formed later that year and began responding to numerous requests from families that had lost loved ones to Klan violence in the Ferriday area during that time period. Eventually, requests came in from Florida, Georgia, Mississippi and Louisiana for assistance. Most of these families told the CCJI that they had never heard from law enforcement officials about ongoing investigations.
In the summer of 2009, the CCJI organized law students from Syracuse, Howard and Catholic universities to photocopy 7,000 unredacted FBI files discovered through a Freedom of Information Act request to the National Archives Annex in College Park, Md. Those files revealed key information leading to today's results. "Maybe justice will show up after all," says Williams.