'Black Syracuse & Beyond: the Richard Breland Photograph Collection' on exhibit at Syracuse University
The work of local community activist and lifelong Syracuse resident Richard Breland will be featured in a special exhibition "Black Syracuse & Beyond: The Richard Breland Photograph Collection." The exhibition will be located in Syracuse University's Panasci Lounge on the second floor of the Schine Student Center from Jan. 27-March 3. An opening reception will be held from 5-7 p.m., Jan. 27 in the Panasci Lounge.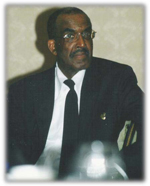 The exhibition is free and open to the public during the Schine Student Center's normal hours of operation (7:30 a.m.-midnight Monday-Friday, 11 a.m.-midnight Saturday and Sunday). The exhibition is sponsored by the Black Syracuse Community History & Mapping Project and supported by a grant from SU's College of Arts and Sciences for the Humanities in the Digital Age Excellence Initiative.
"The Black Syracuse project aims to document public history by combining oral histories; digital preservation of materials from local groups, churches and individuals; and conventional archival materials," says Joan Bryant, associate professor in the Department of African American Studies in SU's College of Arts and Sciences. "The exhibit is one component of this effort."
The exhibit will become part of an online database of materials that document the cultural, economic, political, religious and social histories and experiences of people of African descent in the Central New York region. Breland's photos, which he started creating during the 1940s, offer a glimpse into the extensive historical record of Syracuse's historic 15th Ward. The collection documents neighborhood change as well as persistent community ties that have shaped black life in the Syracuse area. The enlarged digital scans of Breland's photos and other documents were produced at Light Work/Community Darkrooms.
Bryant's co-investigator on the Black Syracuse project is Kishi Animashaun-Ducre, assistant professor of African American Studies. The research team also includes Linda M. Littlejohn, associate vice president of SU's South Side Initiative. Community partners on the project include the Syracuse Black History Preservation Project, the Dunbar Center, the A.M.E. Zion Church Preservation Project and the Onondaga Historical Association.