Movie made in Syracuse has world premiere Monday in Tel Aviv
Monday, Jan. 17, cameras will be snapping photos of Israeli model/actress Bar Refaeli as she attends the world premiere of a feature film made in Syracuse, N.Y.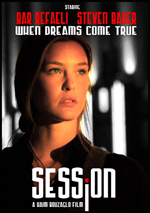 TV stations in Tel Aviv, Israel, have been buzzing for weeks with film footage of the actress and her co-star, American actor Steven Bauer ("Scarface").  The film "Session" (co-written by Syracuse University Professor Owen Shapiro and the film's director, Haim Bouzaglo, and his partner, Lisa Mamou) was made in Syracuse in 2007.
The film—shot primarily at BC Restaurant, Clinton Square, Armory Square and the Syracuse Public Safety Building, and in local homes—features several Syracuse actors (Dennis Brogan and Christine Fawcett Shapiro, among others) in supporting roles. SU film students gained valuable experience (and dollars) as lighting, camera, sound and production assistants. Local filmmakers John Craddock ("Germ") and Shapiro ("Prisoners of Freedom") were the film's producers, along with Bouzaglo. Local media artists Jonathan Waters and Courtney Rile worked behind the scenes with the crew of 50 to keep the production organized, well fed and on schedule. Costume and set designers shopped locally, and Stickley-Audi donated much of the furniture shown in the film. During its production, the  film is estimated  to have injected $300,000 into the Syracuse economy.
"Session," a feature-length drama, stars Bauer as a psychiatrist obsessed with his patient (Refaeli). Bauer and his co-stars, including Hollywood actor Tom Bower, were on hand for the film's unofficial preview at the Syracuse International Film Festival in October 2010. The film already has been scheduled for screenings throughout Israel, France and at numerous international film festivals. 
Syracuse International Film Festival producers Owen and Christine Fawcett Shapiro will be in Tel Aviv to represent Syracuse at the premiere.
To see a clip of the film, visit the film festival website. To view excerpts of the publicity generated in Israel, see http://www.mouse.co.il/CM.articles_item,636,209,57902,.aspx.