STEM
Achille Messac awarded 2010 Multidisciplinary Optimization National Award
Achille Messac, Distinguished Professor and chair of the Department of Mechanical and Aerospace Engineering in Syracuse University's L.C. Smith College of Engineering and Computer Science, has been awarded the 2010 Multidisciplinary Design Optimization National Award from the American Institute of Aeronautics and Astronautics (AIAA), the highest technical award in his field.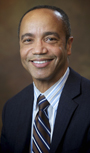 Established in 1993, the award is presented to an individual for outstanding contributions to the development and/or application of techniques of multidisciplinary design optimization in the context of aerospace engineering.
Messac received the 2010 award for his research in multidisciplinary design optimization, including control structure integrated design and physical programming, and for outstanding and visionary leadership in the aerospace community.
He pioneered the development of advanced design technologies, including physical programming, a methodology that brings optimization within the easy reach of industry engineers. The current thrust of his research application revolves around energy systems design and optimization, including wind and solar energy harvesting. He has been published in more than 160 technical publications.
"This award is richly deserved by Professor Messac," says LCS Dean Laura J. Steinberg. "His pioneering work in advanced design technologies has provided powerful optimization tools for industry, and has application in fields as diverse as wind farm design and aerospace technologies."
Messac is also a fellow of AIAA, a fellow of ASME and former chair of the AIAA Multidisciplinary Design Optimization (MDO) Technical Committee. He currently serves as the AIAA deputy director for Aerospace Design (National Office), and is responsible for four technical committees: Multidisciplinary Design Optimization, Design Engineering, Non-Deterministic Approaches and Survivability. He is also a recipient of the national AIAA Sustained Service Award, and serves on several national editorial boards. He received a bachelor's degree, master's degree and Ph.D. from the Department of Aeronautical and Astronautical Engineering at the Massachusetts Institute of Technology.