'Snow' exhibition at XL Projects explores traditional, nontraditional interpretations
"Snow," an exhibition of traditional representations of snow scenes as well as nontraditional and conceptual interpretations, will be on view through Jan. 23 at XL Projects, 307–313 S. Clinton St., Syracuse. The exhibition is free and open to the public. A reception and artists' talk will be held Thursday, Jan. 20, from 6-8 p.m. in conjunction with the Third Thursday (Th3), Syracuse's city-wide art open. Regular exhibition hours are Wednesday-Sunday, noon-6 p.m.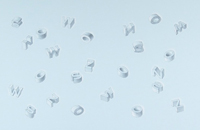 "Snow" is curated by Yvonne Buchanan, assistant professor of illustration in Syracuse University's College of Visual and Performing Arts (VPA). The exhibition's theme was inspired by "Bliz-aard Ball Sale," a 1983 New York City performance piece by artist David Hammons.
For more information, contact Buchanan at yebuchan@syr.edu. XL Projects may be contacted at (315) 442-2542 during gallery hours.