iSchool students successfully present ideas to MLB Advanced Media
Twenty-four Syracuse University School of Information Studies (iSchool) students faced the wee hours of the morning of Thursday, Nov. 18, to travel to New York City as part of the MLB.com University Challenge, a contest set up by the iSchool and MLB Advanced Media.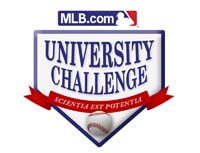 Twenty of the students, both graduate and undergraduate representing seven groups, presented their final projects to a panel of judges who were all MLB.com employees. This was the last step in a two-month team challenge that allowed iSchool students to take a swing at real-world issues in the interactive and digital media industry. Four of the 24 students were invited by iSchool Assistant Professor of Practice Jeffrey Rubin to observe the presentations.
"Watching the students present to MLB Advanced Media was one of the greatest moments I have had as a professor," Rubin says. "The students were prepared, confident and went in with solutions that were cutting edge and well received by everyone involved at MLB.com."
Before presenting their ideas and projects to the panel, the group was invited by Steiner Sports to attend a presentation by Harvey Mackay, New York Times best-selling author of "Swimming with the Sharks," who gave an inspirational speech about creative thinking and business strategy to a nearly full Cinemax theater in New Rochelle, N.Y. CEO of Steiner Sports Brandon Steiner '81, an alumnus of the Whitman School of Management and board member of the Sport Management program and of SU Athletics, also gave a tour of his warehouse, filled with nearly $2 million of sporting good memorabilia, and offered business advice to the students.
"The tours were the best part," says student presenter Kevin Dong '09, G'11, adding that both the Steiner Sports warehouse and MLB.com studios offered diversity in the types of working environments that he thought were available to iSchool graduates.
"A lot of the career services at the school focus on Fortune 500 and big financial institutions, but this is a much different industry," says Marc Spires '10. "This was a great opportunity to get out of the enterprise mindset and imagine other possibilities."
After Steiner gave advice to the students about the importance of flexibility in business strategy and vision, the students boarded the bus again to head to MLB.com headquarters, located within New York's downtown Chelsea Market.
After an hour for lunch, iSchool alumnus and marketing producer at MLB.com Josh Frost '08 escorted the group up to the bobblehead scattered offices to present their ideas to director of engineering Vadim Leyzerovich, user interface engineer Allison McHenry and director of front end development Michael Hoffman '93.
"It's good for young students to practice their presentation skills for a real-world client," says Matt O'Donnell G'11. "Having a presentation that really matters and work that could be implemented were the best parts of this trip."
The overall theme of the groups' presentations focused on simplicity and user-friendly design of a website. Most of the teams worked on projects that streamlined the approach of, and created additional flexibilities to, a specific website.
"The presentations were really well rounded and provided in-depth analysis," says Max Greenberg '14, one of four students selected to observe the presentations. "This was a great opportunity to hear all the creative ideas to organize websites and make them more accessible."
"This was a cool opportunity for the University and us," says MLBAM's Hoffman. "It's very valuable feedback."
Three of the student groups, including overall winners Benjamin Redfield '12, Robert Grazioli '11 and Eric Candino '11 of the Bluejays team, accepted boxes of MLB.com swag for presenting the best ideas. In addition, the Bluejays, who designed and developed a prototype for the calendar redesign in HTML and JavaScript, were awarded a 2011 subscription to MLB.tv and free MLB.com At Bat 2011 applications for the iPhone and iPod touch, or iPad.
Redfield describes the best part of the challenge as working with his friends. "We'd get together and work on the project for what we thought was two hours," he says. "Then we'd look at the clock and see that seven hours had passed."
But for many of the students, the experience of presenting their ideas to clients and getting professional feedback was reward enough.
"You can present in class, but teachers just want to get through the presentations and students don't want to hurt each other's feelings," says Heather Drost '10. "Getting challenges in a professional setting was helpful."
"The overall challenge was actually building something," Candino says. "We got practical experience with current issues facing this digital media company, and that was great."
After the presentations, the students sat down to dinner with MLB.com employees and gathered around to give feedback on the day overall.
"Our biggest question was what a university challenge looks like," Hoffman says. He adds that they'd never done one before, but were pleased with the results.
Some suggested changes were to differentiate the competition into separate contests so that design ideas were judged separately from technology ideas. Overall, the contest was seen as very successful, and the students were excited about attending a similar trip in the future.
"Our goal is to continue to do this year after year," Rubin says. He asked the students if any of them, particularly the freshmen students, would be willing to participate in the challenge again next year. Nearly all raised their hands.
"Our experience with the University Challenge this semester was exactly what Scholarship in Action is all about," says Julie Walas, iSchool director of undergraduate recruitment, who helped organize and chaperone the trip. "It was a great chance to take students beyond the classroom, to give them a fun outlet and to take what they've learned and get creative. We took experiential learning to a new level, and we all had tons of fun."