Light Work, UVP announce winter 2011 programming for Everson site
Light Work and the Urban Video Project (UVP) have announced the first videos to be shown at the UVP Everson site in 2011. In January, UVP will feature "Asylum" and "Smoke" (both 2010) by Jeff Gibson, and in February and March, UVP Everson will feature "Mare, 2009" by Demetrius Oliver.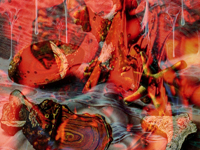 In "Asylum," Gibson takes a page from each of his two most recent artist's books: "Dupe: A Partial Compendium of Everyday Delusions" (self-published, 2000), a dictionary of quasi-clinical, art-world pathologies; sardonic but earnest, and "Sarsaparilla to Sorcery" (SUNY Binghamton, 2007), a picture book exploring perceptual ambiguities between allusive abstract photographic images and taxonomic illustrations swiped from old Encyclopedia Britannicas. Through a chain of slow, poetic dissolves, the video blends psychologistic text with dreamy, morphic imagery into a weirdly visceral stream of consciousness. Similarly, "Smoke" combines quack psychological text with abstract photography and pages appropriated from encyclopedia, this time the World Book series. However, whereas "Asylum" is slow and panoramic in range, "Smoke" is faster, shorter and distinctly gothic in character—more pointed, and, though humorous, blackly so.
Gibson has worked in a variety of media and contexts—painting, photography, video, posters, banners and books, for galleries and public spaces. He is currently the managing editor of Artforum, and in the past was the senior editor of Art&Text magazine. In recent years, his two artists books have been exhibited on the Panasonic Astrovision screen in Times Square as part of Creative Time's "59th Minute" program, and he has mounted solo shows at the New York Academy of Sciences and Luxe Gallery, New York. He is represented by Stephan Stoyanov Gallery (formerly Luxe) in New York.
"Mare, 2009," projects a circular image of a wave crashing against an unnamed shore. As the image rotates, the lines of the waves begin to resemble the layered surface of a planet such as Jupiter. Connecting the sea with heavenly phenomena, the installation recreates the sense of wonderment felt when looking at the night sky and the fundamental human desire to understand one's place in the universe. Mare, which is Latin for "seas," suggests movement and journeys both physical and metaphysical, as well as metaphors of darkness and illumination, looking and discovery.
Oliver lives and works in New York City. He received his B.F.A. from the Rhode Island School of Design, and his M.F.A. from the University of Pennsylvania, and attended the Skowhegan School of Painting and Sculpture in Maine. He was an artist resident at the Core Program, Museum of Fine Arts in Houston, and an artist-in-residence at The Studio Museum in Harlem. His work has been exhibited widely, with recent solo exhibitions at Virginia Commonwealth University in Richmond, Va.; Rhodes College in Memphis, Tenn.; D'Amelio Terras, N.Y.; the Atlanta Contemporary Art Center; and The Contemporary Arts Museum in Houston. His notable group exhibitions include "30 Seconds Off An Inch," The Studio Museum; "Your Gold Teeth II," Marianne Boesky Gallery, New York; "Black Is Black Ain't," The Renaissance Society, Chicago; and "Frequency," The Studio Museum in Harlem.