Spirit of the season glows brightly through Holiday Sharing
On Wednesday and Thursday, Dec. 15 and 16, a group of Syracuse University employees will transform themselves into holiday elves, crisscrossing the campus to collect boxes of gifts and food that will brighten the holidays for approximately 55 local families this season.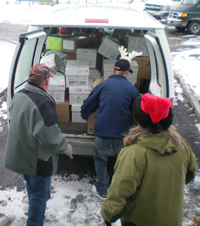 The Holiday Sharing Program, which began in 1991, connects SU's schools and colleges, departments, offices, organizations and individuals with local families in need. This year, families were identified through eight Syracuse city schools: Bellevue Elementary, Delaware Academy, Dr. Weeks Elementary, Elmwood Elementary, Hughes Elementary, H.W. Smith K-8 School, McKinley-Brighton Elementary and Seymour Dual Language Academy; the Veterans Center, and three Syracuse churches—All Saints Parish, First English Lutheran Church and Hopps Memorial C.M.E. Church. More than 450 volunteers and donors are participating in this year's Holiday Sharing program.
SU's Holiday Sharing is a completely volunteer endeavor; the program is organized by volunteers and all collected items are donations from employees. The program does not receive University funding.
"Holiday Sharing is proof positive that folks at Syracuse University are engaged in the community at large," says Eileen Fahey, administrator in the Office of Undergraduate Studies and a member of the Holiday Sharing committee. "The program is a collaborative effort involving people from all areas of the University reaching out to those in need."
Fahey says that the generosity that members of the University exhibit is astounding. "Hundreds of folks in the Syracuse community who might not otherwise have a Christmas now will, thanks to folks who go above and beyond without expecting any kudos in return. I can speak for all members of the Holiday Sharing committee when I say that serving on the committee is an honor."
Along with Fahey, Holiday Sharing committee members include Karen Christensen of Technical Systems and Services in the Division of Advancement and External Affairs; Julie Hughes of Information Technology and Services; Sheila Milden of the Office of Campus Planning, Design and Construction; Judy O'Rourke of the Office of Undergraduate Studies; Kara Patten of Information Technology and Services; Carol Roy of the College of Human Ecology; and Melanie Wheeler of the Office of the Associate Provost.
Committee members are tasked with matching families in need with schools, colleges or departments. Each is provided with a list detailing the family—their ages, sizes and wishes. Each family also receives food items for a holiday dinner and to stock their pantry. This year's families include those hard hit by the economic recession and a few families who have lost their belongings in recent house fires.
The Writing Program in The College of Arts and Sciences has participated in Holiday Sharing for the past 10 years. The family the program adopted this year was burned out of its home shortly before Holiday Sharing began. "When I was first put in touch with the family, they needed just about everything," says the Writing Program's Holiday Sharing coordinating elf, who wishes to remain anonymous due to the nature of her holiday work.
When the extent of the family's need was discovered, the Writing Program elves kicked into high gear. Included in the items they collected were several gently used furniture items, including a sleeper sofa, love seat, bunk bed frame and dressers; kitchen items such as pots and pans and silverware, toaster and blender; a microwave and television with VCR/DVD; clothing; cleaning and laundry supplies; health and beauty items; sheets and towels; and a Christmas tree and decorations. This and more was all collected even before they began shopping for the items on the family's Christmas wish list. The wish list has now been fulfilled, along with holiday food and pantry supplies.
"This department has a lot of very generous people and our family has benefited," says the program's coordinating elf. "We have helped to rebuild a home for a family of four."
Paula Hughson, pastoral associate at First English Lutheran Church, says she is amazed every year by the Holiday Sharing Program, which she describes as a meaningful way for the people working on the Hill to connect with residents of the city in need. "The people who are gifted are always awed—struck silent—unbelieving that anyone, let alone a group of people who don't know them—would care enough about them to do all they do."
"There are so many in need in so much of Syracuse," Hughson says. "Holiday Sharing touches just a few of the many, but I think it touches like the proverbial pebble in the lake—quietly, gently, playfully and with a bit of sparkle."
Hughson says she always looks forward to working with the organizing committee and seeing the SU holiday elves at the church door. "They are committed, compassionate folks who work so hard and with such good humor to have it all come off joyously and graciously."
The SU departments and offices participating in this year's Holiday Sharing include: the Renée Schine Crown University Honors Program; The College of Arts and Sciences Student Services; The College of Arts and Sciences Visitor Center; Office of Academic Affairs; Academic Programs; School of Architecture, Department of Athletics; Audit and Management Advisory Services; Bird Library; SU Bookstore; Office of Budget and Planning; Bursar's Office; Campus Planning, Design and Construction; CASE Center/GCR; Center for Career Services; Center for Public and Community Service (CPCS).
Also, The Chancellor's Office; Department of Chemistry; College of Human Ecology; Department of Communication Sciences and Disorders; School of Education Dean's Office; EPC/Publications/SU Printing Plant; Exercise Science; Financial Aid; Graduate School/Enrollment Management; School of Information Studies; Information and Technology Services (ITS)—Enterprise Technology Group and Enterprise Application Systems; ITS-Learning Environments and Media Productions; ITS-NSM; ITS-Academic Applications and Service Centers /Enterprise Process; Judicial Affairs/Student Affairs; Junior Panhellenic Council; Law Advancement Office; L.C. Smith College of Engineering and Computer Science Dean's Office/SOAR Office; Department of Mathematics; Department of Mechanical and Aerospace Engineering; Office of News Services; Office of Institutional Research and Assessment; Project Advance; Public Communications; Public Safety; Purchasing/Materials Distribution; Reading and Language Arts; Recreation Services; Office of the Registrar; Student Centers and Programming Services; Schine Food Service; School of Social Work; Sport Management; SU Abroad; SUArt Galleries; Supportive Services Office (SSO); Department of Teaching and Leadership; Treasurer's Office; Technical Systems and Services; College of Visual and Performing Arts; WAER; Martin J. Whitman School of Management Dean's Office; Women's Basketball Program; and the Writing Program.
Three individuals, through Carrier Dome Operations, Mail Services and the College Visual and Performing Arts, are also part of this year's Holiday Sharing Program. Additionally, Gertrude Froio, mother of Linda Pitonzo of the Chancellor's Office, donated crocheted goods—49 afghans, 56 hats and 10 scarves—that she made throughout the year.