Syracuse Architecture repeats in No. 2 spot
For the second consecutive year, the Syracuse University School of Architecture undergraduate program has been ranked No. 2 in the nation by DesignIntelligence, the bimonthly journal of the Design Futures Council. The annual rankings are based on a professional practice survey completed by leading architecture and design firms, as well as responses from architecture students regarding the quality of their education.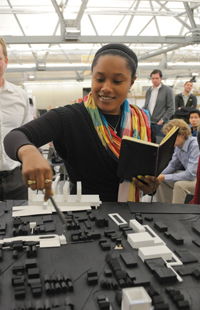 In a survey of architecture deans and chairs, the school was ranked fourth in the list of "Most Admired B.Arch Programs," cited for "its reputation for design excellence, its global awareness and study abroad opportunities." Mark Robbins, dean of the school, was selected as one of the DesignIntelligence "Most Admired Educators of 2011," exemplifying "excellence in design education leadership."
"We are pleased to be recognized by our academic peers and the professional community in this national survey," says Robbins.
Recent initiatives at the school include:
continued expansion of global campus programming through travel opportunities from Spain to Ghana that expose students to the great diversity of approaches in theory and practice on the world stage;
an increasing level of student/community engagement and collaboration through studio-based renovation and design-build projects that are helping to transform the Syracuse Near Westside neighborhood and the city;
an engaged and active AIAS (American Institute of Architecture Students) chapter that is making its mark on the national scene through the activities of its successful "Freedom by Design" initiative. In October, the AIAS group hosted the "Reclaiming Architecture" conference on the SU campus, attracting more than 200 architecture students from across the northeastern United States and featuring keynote speaker Joshua Prince-Ramus; and
the "Formerly Urban: Projecting Rust Belt Futures" conference, presented by UPSTATE: A Center for Design, Research and Real Estate at Syracuse Architecture. The two-day gathering included 21 international experts in architecture, landscape architecture, urban design, planning, policy, finance, economics and real estate development who focused on creating urbanity in weak-market cities.