Light Work announces upcoming exhibition 'Penumbra'
Light Work has announced the exhibition "Penumbra," a suite of three video installations by Demetrius Oliver, which reconnects viewers to their place in the universe by playing with earthly and human forms against a backdrop of the cosmos. In "Penumbra," explorations of light and scale, movement and the rhythm of the natural world suggest journeys both physical and metaphysical.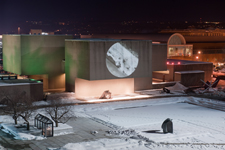 "Mare" will be on exhibition Jan. 18-March 8 in the Light Work Gallery. In "Mare," a circular image of a wave crashing against an unnamed shore, the image spins within itself and simultaneously orbits the gallery. As the image rotates, the lines of the wave begin to resemble the layered surface of a Jovian planet. Visitors to the gallery become part of the work as the projection reflects off their bodies. Joining the sea with both corporal and heavenly phenomena, the installation recreates the awe felt when looking at the night sky and the increasing smallness of human existence within the ever-expanding universe.
At the Everson Museum of Art Urban Video Project site, Oliver will install the work "Perigee," which will run throughout February. It echoes the circular image of a wave that appears in "Mare." A perigee occurs when one orbiting body, in this case the moon, is closest to earth, which makes tidal waves generally stronger. The movement of the video describes the rotation of both planets and the alternate rising and falling of the sea. Its projection on the site, framed perfectly against the stars, transports the viewer into the celestial continuum where earth and its inhabitants are affected by larger bodies in space.
The third component, "Penumbra," which will be installed in the Menschel Photography Gallery in the Schine Student Center, is a three-channel video in which Oliver's head acts as a stellar body fading away as another body emerges to conceal it. The three videos play simultaneously, allowing Oliver to stretch time, the body and space as the circle of his head becomes both a macrocosm of the universe and a microcosm of the body. "Penumbra" will run Jan. 18-March 3.
Oliver lives and works in New York City. He received his B.F.A. from the Rhode Island School of Design, and his M.F.A. from the University of Pennsylvania, and attended the Skowhegan School of Painting and Sculpture in Maine. He has participated in artist residencies at the Core Program, Museum of Fine Arts in Houston and The Studio Museum in Harlem. Oliver was a Light Work Artist-in-Residence in 2009. His work has been exhibited widely, with recent solo exhibitions at Virginia Commonwealth University in Richmond, Va.; Rhodes College in Memphis, Tenn.; D'Amelio Terras, N.Y.; the Atlanta Contemporary Art Center in Atlanta; and The Contemporary Arts Museum in Houston. Most recently, his work Jupiter was installed on the Highline Gallery in New York City.