Light Work announces continued screening of censored video
Light Work has announced the continued screening of David Wojnarowicz's video "A Fire in My Belly," which was recently censored from the exhibition "Hide/Seek: Difference and Desire in American Portraiture" at the National Portrait Gallery in Washington, D.C. The exhibition, curated by Jonathan Katz, represents the first major American museum exhibition to investigate art history from a homosexual perspective. Light Work is among the numerous art institutions across the country protesting the censorship of this video by continuing to screen it throughout the entire time it would have been on view at the National Portrait Gallery.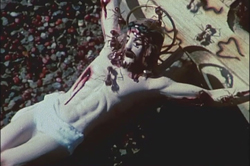 On Dec. 1, World AIDS Day, the Smithsonian Institution removed the video from the exhibition. This move occurred after pressure was exerted by the Catholic League and conservative members of Congress, who have described the work as hate speech and a waste of taxpayer money. Since the removal of the work, public outcry has built across the nation. The website http://hideseek.org offers an archive of information about the censorship of "A Fire in My Belly," as well as a growing list of arts institutions that are hosting events and screenings in support of Wojnaroicz and freedom of artistic expression.
On Dec. 14, in the midst of an upstate freezing blizzard, people gathered to attend an emergency screening of "A Fire in My Belly" held by ArtRage Gallery and Light Work. Similar screenings have popped up across the country, and Light Work and will continuously screen the work until Feb. 13, the slated closing date of the Hide/Seek exhibition.
For more information, call Light Work at (315) 443-1300, or email info@lightwork.org.