Second annual 'Writing Our Lives' urban youth writing conference to be held Nov. 13
The 2010 "Writing Our Lives" youth writing conference takes place Saturday, Nov. 13, from 10 a.m.-1 p.m. at the Percy Hughes Magnet School in Syracuse. This annual event is open to students in grades 6-12 from the greater Syracuse area, including students from the Syracuse City School District and select surrounding schools and districts.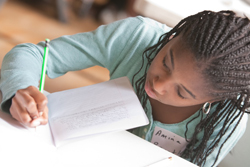 This year's theme, "Who? What? Why? When?" will include workshops on academic writing and creative writing, with subject matter ranging from comic books and graphic novels, to photo essays, to journaling and writing a college essay. There is no cost to attend, though pre-registration is recommended. Materials, continental breakfast and lunch will be provided to students. "Writing Our Lives" is sponsored by the Syracuse University School of Education's department of Reading and Language Arts and the Partnership for Better Education.
Marcelle Haddix, assistant professor of reading and language arts, planned the "Writing Our Lives" conference and facilitates youth writing programming throughout the year. "I'm extremely excited about this year's conference," she says. "In addition to the workshops we have planned, there will be special performances from two local spoken-word poetry groups, SU's Verbal Blend and Syracuse's Underground Poets."
Haddix created the "Writing Our Lives" program to answer the call to action from the Syracuse community to provide a venue for urban youth to sharpen their writing skills, and discover their identities as writers. Last year, the conference drew more than 100 students. This year, the bar has been set higher. "We anticipate close to 150 students in attendance. Students from all over the greater Syracuse area have registered, through community groups and as individuals," Haddix says.
The day will be organized into two 50-minute workshop sessions, and participants will be organized into three groups by grade level. Workshop topics, facilitated by SU faculty members from the School of Education, the S.I. Newhouse School of Public Communications, the department of Communication and Rhetorical Studies in the College of Visual and Performing Arts, and volunteers from the SU Literacy Corps, are:
Spoken Word Poetry
The Art of Illustration
Creating Comics
Storytelling
Journalism
Photo Essaying
Memoir/Personal Narrative
Journal Writing
Creating Writer's Notebooks
Writing the College Essay
For more information or to pre-register for the conference, visit http://writingourlives.syr.edu.