The Campaign for Syracuse University 2009-10 impact report now available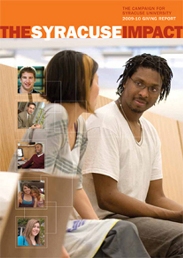 "The Syracuse Impact," the 2009-10 giving report for The Campaign for Syracuse University, is now available online at campaignprogress.syr.edu. The report covers gifts to the University from Jan. 1, 2009, through June 30, 2010, and includes stories highlighting the significant impact campaign gifts have had on faculty and students.
Among the initiatives featured are the Martin J. Whitman School of Management's Entrepreneurship Bootcamp for Veterans with Disabilities, which has proven so successful that it is being offered at a number of other colleges and universities across the nation; Say Yes to Education, SU's precedent-setting partnership with the Syracuse City School District that serves as a national model for urban education reform; and the University's Green Data Center, SU's collaboration with IBM and the State of New York, which has been hailed as one of the world's most energy-efficient computer centers.
The report also offers:
significant campaign progress statistics, including campaign totals, donor groups and gift designation categories;
lists of new funds that have been created or significantly increased during the time period covered in the report (funds established since the inception of the campaign in 2007 are listed online at campaignprogress.syr.edu);
and updates on new endowed chairs and professorships created through the Faculty Today gift challenge program.
Searchable listings of donors who made annual gifts to The Campaign for Syracuse University from July 1, 2009 through June 30, 2010, are available online at reportofdonors.syr.edu. Lists can be viewed by donor type (parents, current students, corporations, foundations and organizations); by donor recognition levels (Benefactors, Pathfinders, Visionaries); by class decade; and by first letter of the last name. The list can also be searched for specific names and class years.
A limited quantity of "The Syracuse Impact" print edition is available. Call (315) 443-2865 or 877-GROWSU (877-247-6878), or e-mail campaign@syr.edu to request a copy.