School of Education's professor Taylor receives Peace Studies and Media honors
Steven Taylor, professor of cultural foundations of education and centennial professor of disability studies in the School of Education has been selected to receive the 2010 Peace Studies and Media award by the Central New York Peace Studies Consortium.  He will be presented with the honor at the 22nd annual Peace Studies Conference to be held on Nov. 13 on the SUNY Cortland campus.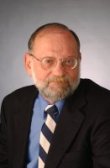 Taylor's award is in recognition of his book, "Acts of Conscience: World War II, Mental Institutions and Religious Objectors" (2009, Syracuse University Press).  The Peace Studies and Media Award is an international award for outstanding media such as books, documentaries, films, visual art, operas, plays, and music in the field of peace studies. The media can come from any discipline or topic including, but not limited to; international studies, ethnic studies, gender studies, religion, sociology, environmentalism, critical animal studies, social work, biology, history, economics, public administration, criminology, philosophy, anthropology, chemistry, medicine, agriculture, political science, disability studies, botany, and information studies. 
Taylor is director of Syracuse University's Center on Human Policy, and co-director of the Center on Disability Studies, Law, and Human Policy. He has authored numerous books and articles, and is knowledgeable about deinstitutionalization, community inclusion, disability policy, disability studies, and qualitative research methods.  He was the recipient of the 1997 Research Award of the American Association on Mental Retardation, the 2003 Syracuse University Chancellor's Citation for Exceptional Academic Achievement, and the 2008 Senior Scholar Award of the Society for Disability Studies. 
The Central New York Peace Studies Consortium is an interdisciplinary scholarly based organization dedicated to promoting and advancing critical dialogue and research on the theory and practices of peace, conflict, and social justice through higher education.