Creative Arts Academy students addressing local violence through art
In response to recent acts of violence among high school-age youth in the Syracuse community, visual arts students from Creative Arts Academy are collaborating with artist Rigo 23 to create a 17 foot by 7 foot mural depicting images and words reflecting peace and nonviolence. The students are exploring their own feelings and thoughts about the recent youth violence in Syracuse and translating them into images of peace.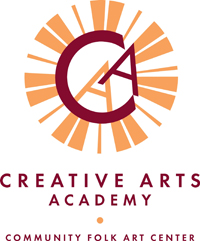 Rigo 23 is a San Francisco-based artist known internationally for his political art. The Warehouse Gallery at Syracuse University will be presenting "Taté Wikikuwa Museum: North American 2024," an exhibition by Rigo 23 that focuses on the artwork, life and status of Leonard Peltier, a Native American who has been incarcerated since 1976. The exhibition will open on Thursday, Nov. 18.
"We are excited and honored to have our visual art students working alongside Rigo 23 to create a powerful visual message, solidifying our commitment to non-violence and social activism through the arts," says Ty Marshal, coordinator of Creative Arts Academy. Creative Arts Academy students have been working directly with Rigo 23 to create the mural, meeting at SU's Warehouse from 4-6 p.m. every day during academy hours during the week of Nov. 15-19. Upon completion, the mural will be on display outside of the Community Folk Art Center, located at 805 E. Genesee St. in Syracuse.
This opportunity is being provided to the students by a collaboration of the Community Folk Art Center, The Warehouse Gallery, SUArt Galleries and Daylight Blue Media, which is filming the process throughout the week to be presented at a later date.
"Too often in this community, young people are often described in terms of what they do wrong, and rarely are these same young people given the opportunity to work peer-to-peer at the center of the solution," says Kheli Willetts, executive director of the Community Folk Art Center. "By working with an internationally recognized artist known for his political and social activism, our students are provided with a forum to influence a local issue positively."
Creative Arts Academy is Community Folk Art Center's pre-professional arts program for students in the Syracuse area.