Warehouse Gallery becomes Taté Wikikuwa Museum for a while
The Warehouse Gallery has changed its appearance to temporarily host a fictive Native American museum: the Taté Wikikuwa Museum by Rigo 23, focusing on Native American Leonard Peltier. A public reception will be held Thursday, Nov. 18 from 5–8 p.m., featuring live music by Robert Benedict, Native American flutist. The exhibition is intended for audiences of all ages. All events are free and open to the public.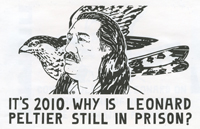 On Saturday, Nov.20 at 3 p.m., The Warehouse Gallery will screen "Incident at Oglala" (1992) by Michael Apted followed by a roundtable discussion on "Leonard Peltier and the Civil Rights Movement" at the Warehouse Auditorium. Speakers are: Tom Poor Baer, Oglala; Bruce Ellison, attorney; Allan Jamieson, Wolf clan from Grand River territory, coordinator of Neto; Robert Hillary King, Angola Three; and Rigo 23, artist. The moderator is Gregg Lambert, Dean's Professor of Humanities and director of the SU Humanities Center.
Intercultural relations and issues of justice are often present in Rigo 23's art, which includes working with political prisoners, such as Native American Leonard Peltier, the subject of this show. Accused and convicted of the murder of two FBI agents in 1976, Peltier has been and remains the center of an international controversy. The exhibition title refers specifically to Peltier's given name in Lakota (Taté Wikikuwa), to his next parole hearing in 2024, and showcases Peltier through his paintings; works by French-born documentary photographer Michelle Vignes; arts and crafts by the Oglala Sioux tribe in Pine Ridge, N.D.; as well as documents, books, writings and educational material.
The Taté Wikikuwa Museum includes barred windows and a hallway referring to Peltier's life, writing, and photographs that leads to the main space, including Rigo 23's life size sculpture of Peltier. The room is reminiscent of a cell, yet it also conveys spiritual elements through Peltier's paintings and the color choices for the walls and banners. The adjacent space shows Vignes' photographs documenting the Native American Movement, and it leads to a testimonial wall where the visitor is invited to share comments, while the vault offers further documents on Peltier.
San Francisco-based artist-activist Rigo 23 holds a B.F.A. from the San Francisco Art Institute (1991) and an M.F.A. from Stanford University (1997). A recipient of prestigious awards, Rigo 23 has created art and public interventions for the past two decades. Exhibited widely, he was recently featured at the 2010 01SJ Biennial in San José, Calif., and the Lyon Biennial, Lyon, France. This is Rigo 23's third solo museum show on the East Coast, and it reveals his essential collaborative method. The exhibition is accompanied by Onondaga Nation-based sculptor Tom Huff's installation for the Window Projects that consists of a mural and sculptural elements relating to the main gallery.
A gallery guide accompanies the exhibition with an essay by Anja Chávez. The catalog will be available at the gallery and online beginning Nov.29.
Additional support for the installation is provided in part by Gallery Paule Anglim and Signage Systems. Additional support for the programming has been provided by the SU Humanities Center, organizer of the 2010 Syracuse Symposium on "Conflict: Peace and War"; the native American Studies Program; PAL Project; and the Community Folk Art Center.