Kirt Wilson chosen as keynote speaker for Syracuse University's 2011 Martin Luther King Jr. Celebration
Kirt Wilson, associate professor of communication arts and sciences at Penn State and an African American scholar, will be the keynote speaker for Syracuse University's 26th annual Martin Luther King Jr. Celebration, "Heirs of a King: Remembering and Continuing the Work of Global Legacy," on Sunday, Jan. 23, 2011, in the Carrier Dome.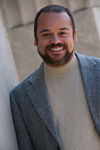 The annual celebration is among the largest university-sponsored events in the United States to commemorate King. Last year, more than 2,000 people attended SU's event.
"Over the years, we have honored Dr. Martin Luther King in this celebration with wonderful keynote speakers," says Theresa Jenkins, chair of the 2011 celebration. "Following in this tradition, we will welcome Kirt Wilson, who will bring us his knowledge and perspective on the great works of Dr. King and his global legacy."
The evening program, which will include the presentation of the 2011 Unsung Hero Awards and entertainment, begins at 6:30 p.m. and is free and open to the public. Tickets for the dinner, which precedes the program at 5 p.m., are $25 for the general public and $15 for students without meal plans. Students with meal plans will be charged for one dinner. Tickets, which generally sell out soon after they go on sale, will be available on Wednesday, Dec. 1. For ticket information, call Hendricks Chapel at (315) 443-5044.
Nominations for the Unsung Hero awards are currently being accepted through Monday, Nov. 29. Nomination forms are available at http://hendricks.syr.edu/events/mlk_award.html.
Wilson will also take part in "A Conversation with Kirt Wilson," a discussion based on Thomas Jackson's 2009 book, "From Civil Rights to Human Rights: Martin Luther King Jr. and the Struggle for Economic Justice" (University of Pennsylvania Press), on Jan. 23 at 3 p.m. in Maxwell Auditorium.
A community festival celebrating arts, culture and education in the Syracuse community will be held on Saturday, Jan. 29, from 1-4 p.m. at Seymour Dual Language Academy, 108 Shonnard St.
Wilson is a rhetorical critic and theorist whose research spans African American public discourse, presidential rhetoric, 19th-century rhetorical practice and theories of social change and race. Before joining the Penn State faculty in August, Wilson had been assistant and associate professors of rhetoric and communication at the University of Minnesota since 1996. He taught courses in African American civil rights discourse; argument theory and practice; close textual criticism; collective memory; sentimental aesthetics and U.S. public address. He also served as director of graduate studies for the University of Minnesota's communication sciences department.
He is the author of "The Reconstruction Desegregation Debate: The Politics of Equality and the Rhetoric of Place" (Michigan State Press, 2002) and was an associate editor of "The Sage Handbook of Rhetorical Studies" (2009). He was honored by the University of Minnesota with a McKnight Presidential Fellowship in 2004. He has won the National Communication Association's New Investigator Award (2001), the Karl R. Wallace Memorial Award (2002) and two book awards—NA's Winans-Wichelns Memorial Award and the Marie Hochmuth Nichols Award for Published Research.