Arts & Culture
SU Drama presents 'Jungalbook'
Take an excursion into a playground full of imagination and physical dexterity. Adapted from Rudyard Kipling's books and poems, Edward Mast's "Jungalbook" springs to life on a contemporary jungle gym, illustrating how a child's imagination can create an exciting new world out of everyday objects. "Jungalbook" is the season's second offering from Syracuse University's Department of Drama in the College of Visual and Performing Arts.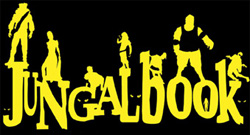 Directed by Felix Ivanov, assistant professor of acting and movement, the work will run Nov. 12-21 in the Storch Theatre at Syracuse Stage. For tickets, call (315) 443-3275 or visit http://vpa.syr.edu/drama.
Faithfully adapted from Kipling's 1894 Nobel Prize-winning "The Jungle Book" and its sequel, Mast's adaptation—first performed in 1982—aims to bring Kipling's timeless stories and poems into the present. The script is laden with dark undertones and intense fight sequences, unlike some popular film adaptations of the book.
Adapted from Kipling's books and poems, the intertwined tales of Mowgli, the "mancub," get a contemporary spin as the timeless characters come to life. The familiar story of Mowgli—raised by Akela the wolf, tutored by Baloo the bear and protected by Bagheera the panther—climaxes in the final showdown with Sherakhan the tiger. Along the way, Mowgli learns the laws of the jungle and the price paid for breaking them. Unlike some popular film versions, this adaptation adheres closely to Kipling's stories and captures the poetic spirit of the original tales.
Ivanov's background in movement and stage combat is heavily utilized in the production. Instead of relying on masks and costuming to represent a specific animal, the cast has rehearsed movement techniques evoking various animalistic qualities.
Within the animalistic movement, the actors have also been challenged to discover ways of communicating character. "The actors have to find how they connect with the characters," notes Ivanov. "It's not just about trying to move like a bear or imitate an animal. It's about finding a specific internal characteristic that motivates each character and pushes the story forward."
"Jungalbook" will feature Christian Leadley (seen last season as Jeff in "I Love You Because") as Mowgli, in addition to Jon Schoss as Baloo the Bear, Farasha Baylock as Bagheera the Panther, Matt Smith as Sherakhan the Tiger and Chelsea Rolfes as Akela the Wolf.