SU students beautify park with public art project
Into the darkness they rush, fully loaded with bundles of fabric, yarn of all colors and limitless imagination. Under the night's cover, the yarn bombers make their mark at parks and train stations, on trees and fences, before retreating in silence to plan their next strike.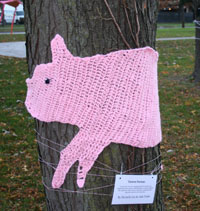 Last semester, guided by Syracuse University College of Visual and Performing Arts (VPA) instructor and amateur yarn bomber Mary Giehl, SU students raided the Kenneth A. Shaw Quadrangle (the Quad) with a variety of fiber projects, moving out at midnight to hang their latest creations. This was part of Giehl's effort to familiarize them with "guerrilla art" and bring an unexpected twist to her fibers course.
Earlier this fall, Giehl partnered with colleague Anne Cofer, also an instructor in VPA, to bring 30 art students to the city's Forman Park, a small area on the Connective Corridor near the Crowne Plaza Hotel and just a few blocks downhill from Crouse Hospital. After three weeks of development, the students installed projects for their introductory fibers course, wrapping trees and benches with symbolic knits and structures.
Unlike other activities Giehl has spearheaded, this project was a bit different. Titled "Elements of Syracuse," the project was installed in broad daylight and had to receive the approval of the city's Public Art Commission, an 11-member group formally organized in 2007.
"Elements of Syracuse" are not random creations, but rather works based on the history of the city. At the moment, some trees are helping to herd pigs and sheep in knitted form, an acknowledgment of the park's former role as a roaming ground for neighborhood livestock. Snow is also a recurring theme, given that so many students are new to Syracuse winters. One piece, "Nature Snowflake," shrouds a tree in red and green fabric to "contrast the white winter in Syracuse," according to the attached description. Another piece showcases a lone figure hemmed in by a web of snowflakes on one of the park's benches.
Typical introductory fibers courses are weekly studio sessions that consist of almost five hours of hands-on work. This labor usually goes toward creating a body of work students present at the end of the semester for their grade. Afterward, the work is frequently discarded. Giehl sees an opportunity to bring new life to the course by moving from disposable pieces to public art. For many of her students, this was their first chance to create a piece for the community's enjoyment.
"It gave them something to make that had a purpose and a place," Giehl says. "There's a lot of significance to the work."
After more than a month in the elements, some of the installations show signs of fatigue. A few have been reduced to wire and tattered fabric, which Giehl has reclaimed for her next brainchild. For the most part, however, the artwork endures. "Elements of Syracuse" will remain on display in Forman Park until mid-December.
For more information on the "Elements of Syracuse" public art project, contact Robbi Farschman, director of the Connective Corridor, at (315) 443-4137 or rfarschm@syr.edu.