VPA interior design program ranked No. 4 in nation by DesignIntelligence
The interior design program in Syracuse University's College of Visual and Performing Arts (VPA) has been ranked No. 4 in the nation for undergraduate interior design programs in the 2011 DesignIntelligence report "America's Best Architecture & Design Schools." DesignIntelligence is the Design Futures Council's bimonthly report on the future, delivering original research, insightful commentary and instructive best practices.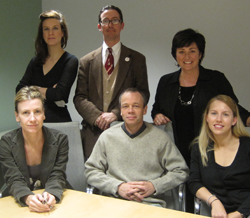 The interior design program jumped to No. 4 after being ranked No. 10 in DesignIntelligence's 2010 report. The program is housed in VPA's Department of Design and is led by Lucinda Havenhand, associate professor and chair of the design department; Sarah Redmore, assistant professor and interior design program coordinator; and faculty members Ruth Westervelt, Jennifer Hamilton, Zeke Leonard, Zoriana Dunham, Dennis Earle and Tim Brower (faculty pictured at left).
"The interior design program's acceleration to the top of the national rankings is a direct reflection of the innovative shifts in the curriculum implemented by dedicated, dynamic and forward-thinking faculty," says Havenhand.
"SU has been recognized as a leader in interior design education for more than 25 years," says Redmore. "I believe the competitive advantage of our program is our commitment to collaboration. This is exemplified in our new faculty team. We are an extremely diverse group, with a wide range of educational and professional backgrounds. Although each of us has a unique expertise, we are committed to working together to deliver a rich and challenging curriculum. Our strength is also in our commitment to stay current and continually respond to our rapidly changing world."
The DesignIntelligence study ranks undergraduate and graduate programs from the perspective of leading practitioners. Selected professional practice leaders who have direct experience in hiring and evaluating the performance of recent architecture and design graduates are invited to participate in the research. Survey participants, who are drawn from a database of leading firms throughout the United States, were queried about which college and university programs are best preparing students for professional practice.
"The DesignIntelligence report is based on the feedback of design firms who hire SU graduates," says Redmore. "Plain and simple, these firms like to hire students from the interior design program. They know our students are ready and eager to work and have the potential to become industry leaders."
The Design Futures Council is an interdisciplinary network of design, product and construction leaders exploring global trends, challenges and opportunities to advance innovation and shape the future of the industry and environment. Members include leading architecture and design firms, dynamic manufacturers, service providers and forward-thinking AEC (architecture, engineering, construction) firms of all sizes that take an active interest in their future.