Campus & Community
Speedskater Apolo Anton Ohno to hold book signing at SU on Nov. 6
Speedskater Apolo Anton Ohno, the most decorated American Winter Olympics athlete of all time, will be in Syracuse on Saturday, Nov. 6, from 3-4 p.m. to sign copies of his newly published life story, "Zero Regrets: Be Greater Than Yesterday" (Atria Books, 2010). The signing will take place on the main level of the Syracuse University Bookstore, located in the Schine Student Center, 303 University Place. Books are available for purchase in the bookstore. The event is free and open to the public. Paid parking is available in campus lots.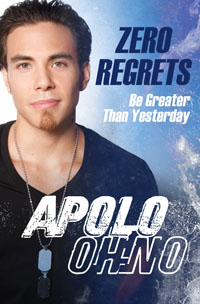 Ohno is a short track speedskater and eight-time Winter Olympic medalist (two gold, two silver, four bronze). He became the youngest U.S. national champion at the age of 14, but a year later finished last at the U.S. Olympic trials because of his lack of preparation. After soul searching, he recommitted to his sport and went on to win major speed skating titles.
"Zero Regrets" chronicles Ohno's career and his relationship with the single father who raised him. The book shares the inspiring personal story behind his remarkable success, as well as the hard-won truths and strategies he discovered in good times and bad.
Since gaining recognition through his sport, Ohno has worked as a motivational speaker and philanthropist. He started a nutritional supplement business called 8 Zone and in 2007, competed on and won the reality television show "Dancing with the Stars."
For more information, contact Leah Deyneka at the SU Bookstore at (315) 443-9900.