Interactive performance, exhibition 'Who is Aldous Rose?' to be presented at XL Projects
"Who is Aldous Rose?," an interactive exhibition and performance exploring the complete life of Rose, a poet and circus performer, will be presented Dec. 1-5 at XL Projects, 307-313 S. Clinton St., Syracuse. Designed and directed by Syracuse University drama major Mark Blane '11 and featuring performances by SU undergraduates, "Who is Aldous Rose?" is free and open to the public.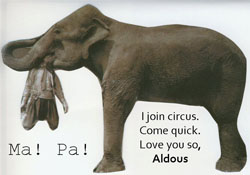 Performances will be held Dec. 3-5 from 7-9 p.m. The exhibition may also be viewed without performers Dec. 1-5 from noon-6 p.m. Patrons are strongly encouraged to attend a performance to more fully experience the exhibition.
Rose was a young poet living in Sylver City, Nev. at the start of the 20th century. In 1908, when Rose was six years old, the town's inhabitants burned his poetry out of fear of his creativity and questionable moral value. Rose ran away and joined a circus that traveled across the United States for many years. He then traveled the world and imprinted his ideas and poems on world citizens spanning more than 437 countries.
Patrons who attend a performance will be greeted, registered and directed through the exhibition by various characters, some of whom are based on real people Rose met throughout his world travels. The exhibition will include dioramas, collages, photos, poetry and memorabilia, as well as various stations where patrons will be encouraged to participate using secret instructions. Patrons exit the exhibition through the Guilty Gift Shop.
In addition to serving as designer and director, Blane also served as Rose's assistant and friend, gathering information for the performances and exhibition through interviews. Many of the actors Blane uses in the performances are students in SU's Department of Drama, which is housed in the College of Visual and Performing Arts (VPA).
For more information, e-mail Whoisaldousrose@gmail.com. XL Projects may be contacted at (315) 442-2542 during gallery hours, Wednesday-Sunday, noon-6 p.m.