Arts & Culture
Danish quartet Ensemble Nordlys to present free concert Nov. 7
Ensemble Nordlys, a chamber ensemble based in Copenhagen, Denmark, will present a concert on Sunday, Nov. 7, at 5 p.m. in the Rose and Jules R. Setnor Auditorium, Crouse College. The concert, which is free and open to the public, is sponsored by the Rose, Jules R. and Stanford S. Setnor School of Music in Syracuse University's College of Visual and Performing Arts and the Office of the University Performing Arts Presenter. Free parking is available in the Irving Garage.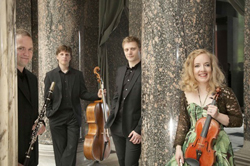 The concert will feature works by Bent Sørensen, Carl Nielsen, Zoltan Kodaly, Paul Hindemith and Setnor School faculty member and interim co-director Andrew Waggoner. Waggoner's piece was commissioned by Ensemble Nordlys and premiered by the group last spring in Copenhagen.
Hailed in Europe as one of the most exciting young chamber ensembles on the scene, Ensemble Nordlys ("the Northern Lights Ensemble") will stop in Setnor Auditorium as part of its November U.S. debut tour. Other stops include Carnegie Hall's Weill Recital Hall in New York City and Old Westbury Gardens on Long Island, N.Y.
Ensemble Nordlys consists of Christine Pryn, violin; Øystein Sonstad, cello; Kristoffer Hyldig, piano; and Viktor Wennesz, clarinet. The quartet performs music from the Baroque era, Viennese and romantic periods and music of our time. Since its critically acclaimed debut in 1997, it has performed at prestigious venues around the world, becoming one of the most successful and well-established young Danish ensembles. Learn more at http://www.ensemblenordlys.dk.
For more information, contact the Setnor School at (315) 443-2191.