Campus & Community
New autism documentary 'Wretches & Jabberers' to premiere at 2010 Syracuse International Film Festival
"Wretches & Jabberers: And Stories from the Road," a new documentary film directed and produced by Oscar winner and twice Academy Award-nominated filmmaker Gerardine Wurzburg, will premiere as part of the 2010 Syracuse International Film Festival on Saturday, Oct. 16, at 3 p.m., at the Palace Theater in Syracuse. The premiere screening is co-sponsored by Syracuse University's Orange Central and the School of Education. Tickets are $8 and will be available at the venue, or in advance at http://syrfilmfest.com.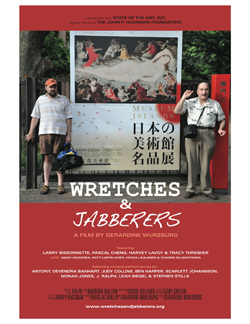 Following the screening, NPR anchor Lakshmi Singh '94, a 2010 Orange Central co-chair, will moderate a panel discussion and audience Q  and A. Panelists include stars of the film Tracy Thresher and Larry Bissonnette, producer/director Wurzburg and producer Douglas Biklen, dean of the School of Education. CART and ASL interpretation will be provided for the screening and the panel discussion.
"Wretches & Jabberers" follows Thresher and Bissonnette, two men with autism, as they embark on a global quest to change attitudes about disability and intelligence. Growing up, they were presumed "retarded" and excluded from normal schooling. With limited speech, they both faced lives of social isolation in mental institutions or adult disability centers, but when they learned as adults to communicate by typing, their lives changed dramatically. In the film, Thresher and Bissonnette take to the road to promote awareness of the hidden intelligence in those who face speech and communication challenges, connecting with others like them across the globe who struggle to find a means of expression. Thresher, Bissonnette and their support team, Harvey Lavoy and Pascal Cheng, visit Sri Lanka, Japan and Finland, giving interviews and presentations and learning about the lives of people with autism in these countries. Viewers share in their experiences as the men negotiate the terrain of travel, culture and new friendships on what they aptly name "The World Intelligence Magnified Tour."
"Our goal was to shine a light on autism internationally," says Wurzburg, "Larry and Tracy's journey allowed us to portray the global face of autism through the personal stories of six men and women throughout the world."  The result is a provocative mixture of advocacy, personal portrait and travel adventure film—seasoned with liberal doses of humor.
Throughout the film, Thresher, Bissonnette and their compatriots inspire parents, educators and others with autism through their poignant narratives of personal struggle that always ring with intelligence, humor, hope and courage.
Of his experience working on the film, Thresher reflects, "It has had a cathartic learning explosive effect on my life with good movement of ideas, thoughts and feelings. I was feeling less autistic and felt I had purpose in life." Bissonnette adds, "I get proud thoughts thinking Tracy and I can fasten our perspectives on the public's consciousness."
"Wretches & Jabberers" includes an original score and songs by J. Ralph, the composer of two Academy Award-winning documentaries, "Man On Wire" and "The Cove," with performances by major artists, including Antony, Devendra Banhart, Judy Collins, Ben Harper, Scarlett Johansson, Norah Jones, Leah Siegel and Stephen Stills.
Visit the "Wretches & Jabberers" website at http://www.wretchesandjabberers.org for more information about the film, upcoming screenings, and to read Thresher and Bissonnette's blogs.
For questions about the Oct. 16 screening event, contact Jennifer Russo at the School of Education at jhrusso@syr.edu or 443-4751.