STEM
Davidson presented with Wayne W. Stinchcomb Award
Syracuse University's Barry Davidson, a Meredith Professor in the Mechanical and Aerospace Engineering Department at the L.C. Smith College of Engineering and Computer Science (LCS), has been awarded the Wayne W. Stinchcomb Award for outstanding research, service and contributions to the field of composite materials. This is one of the highest awards given in the field of composite materials and was presented to Davidson by ASTM International at the 25th Annual American Society for Composites Technical Conference.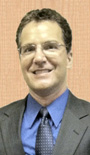 The Wayne W. Stinchcomb Memorial Award, established in 1995, is presented biannually to honor Stinchcomb, an educator, researcher, fellow and contributor to ASTM, who demonstrated exceptional technical and administrative leadership especially with respect to the field of composite materials.
Three key criteria are considered in evaluating the nominees:
Outstanding contributions, with an emphasis on mentorship in research, engineering, or teaching the technology of composite materials;
Outstanding service to ASTM's composite materials committee or any other technical organization with emphasis on the study and advancement of composites;
Other outstanding work or contributions in the area of composites
Davidson was selected for his important contributions in research, his commitment to the mentoring of colleagues and students, and his work with both national and international industry partners.
"I first met Professor Davidson at an AIAA conference in La Jolla, Calif., in 1993, where we both presented in the same session," says Ronald Krueger, senior research engineer at the National Institute of Aerospace. "This was the beginning of collaboration on research whose results were summarized in three journal publications. I was impressed by Professor Davidson's diligence as well as his mentorship that was visible in the way he took care of his students."
Davidson's primary research interests are in the fields of composite materials, fracture mechanics, collaborative design and design education. His research work has been supported by NASA, the FAA, the Empire State Development Corp. (New York State), the AT&T Foundation, the National Science Foundation, the U.S. Army Intelligence Center, the National Institutes of Health, United Technologies Corp. and the Jet Propulsion Laboratory.