Campus & Community
Maurice Harris named dean of undergraduate admissions at Syracuse University
Syracuse University announced today the appointment of Maurice Harris as dean of undergraduate admissions. Harris replaces Susan E. Donovan, who retired in August 2010 after more than 35 years of service. Currently the associate dean for graduate programs in the Martin J. Whitman School of Management, Harris was appointed after an intensive national search.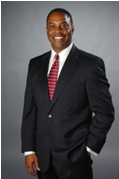 "The search committee met with talented candidates from a range of institutions, locations and backgrounds," says Don Saleh, vice president for enrollment management.  "But sometimes the best fit is the person that's standing right in front of you. As an SU alumnus, associate dean and faculty member, Maurice has an especially keen understanding of the Syracuse University vision and what we need to do to enroll and graduate successful students." 
Under Harris' leadership, the graduate program at the Whitman School saw a substantial increase in enrollment. Harris led the Whitman School's renewed focus on improving both the quality and diversity of its graduate students, and has demonstrated a personal commitment to supporting students throughout their careers. He oversaw Whitman's full-time M.B.A. program, as well as several online programs and full-time M.S. and certificate programs. Harris was also instrumental in securing an exclusive contract with the U.S. Department of Defense to provide an M.S. in supply chain management for career logisticians, and has taught in the areas of corporate finance, financial markets and institutions, investment analysis and equity valuation. 
"The Chancellor and I are thrilled that Maurice has agreed to become our new dean of admissions," says Vice Chancellor and Provost Eric F. Spina. "While he has big shoes to fill, I am confident that his proven analytical skills and strategic mind, the quality of his character, his passion for Syracuse University and his leadership skills will enable him to continue the University's advancement as a school of choice for undergraduate students. I have been very impressed with Maurice in my interactions with him, and I look forward to supporting him in this new senior leadership role." 
"Changing demographics, new technologies and escalating costs make this an increasingly competitive time for higher education institutions," says Harris. "Now more than ever, we need to bring an entrepreneurial mindset to the recruiting and admission function. I'm excited to work across campus and with the undergraduate admissions team to enroll the best students from across the country. We'll build on effective strategies and incorporate new methods as we promote the programs and experiences one can only find at Syracuse University." 
Harris joined the Whitman School as an assistant professor of finance in 2005 and previously taught at the University of New Hampshire and Bentley College. He has held positions with First City National Bank of Houston, the Government Finance Research Center and Fidelity Investments. He earned his bachelor's degree at Bowling Green State University, his M.P.A. at the Maxwell School of Citizenship and Public Affairs, and his Ph.D. in business administration, with a concentration in finance and economics, at the Whitman School. 
His appointment begins on Jan. 1, 2011.